This post may contain affiliate links. I may be compensated if you make a purchase through a link on this page.
Homemade Bath Soak for Sore Muscles – DIY Recipe!

You will find this homemade bath soak for sore muscles very helpful if you are looking for an effective natural home remedy for achy muscles.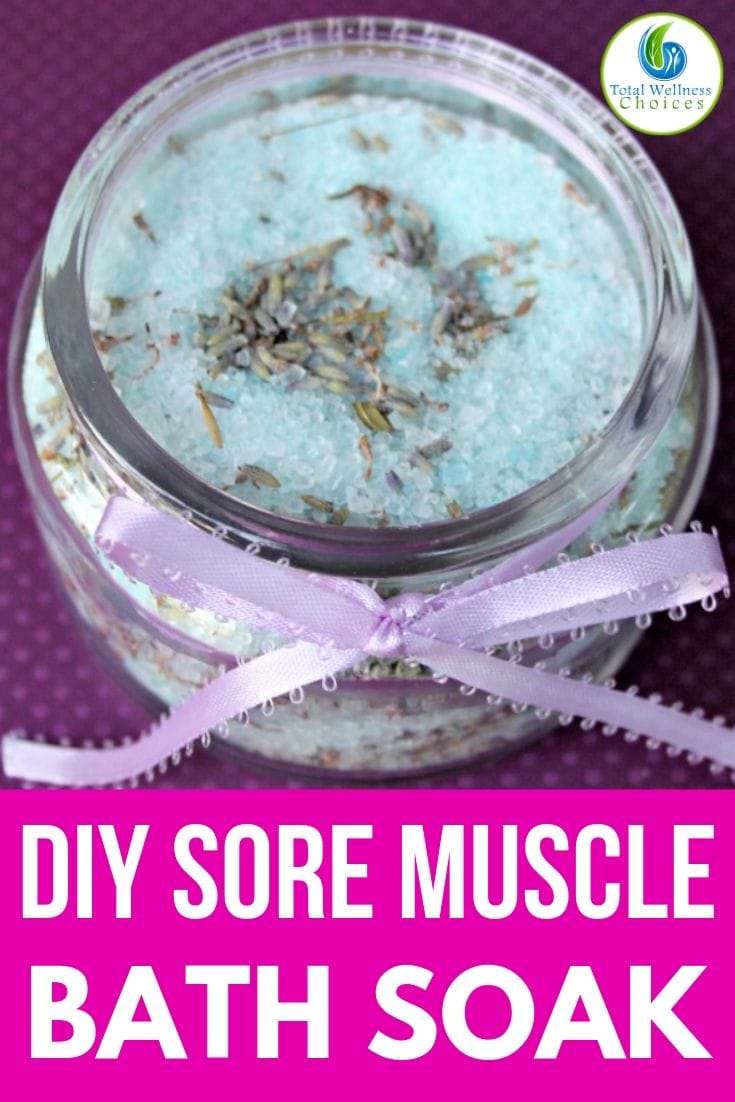 As much as I hate to admit it, the more that I age, the more that I notice my feelings of sore muscles creeping up here and there.
But do you know what I dislike more than actually coming to terms that I'm getting older? I dislike the over-the-counter sore muscle medicines that you can buy to try to help soothe the muscle pain.
Not only are they greasy and messy, but they smell horrible as well. Seriously, I don't want to put that concoction on my skin!
And with this awesome sore muscle bath soak recipe, I won't have to ever again. What I love most about this recipe is the fact that it is supposed to be used while soaking.
It's perfect for relaxing in the tub after a hard day's work! And not only is it simple to make, but it's also made from great-smelling ingredients as well.
Who wouldn't want to soak in a tub full of awesome smelling essential oils? Sounds like the perfect way to relax those muscles while relaxing your whole body as well.
Give this homemade bath soak for sore muscles a try, and see if you notice a difference in how your muscles feel. You may never go back to anything store-bought again!
Ingredients Used in this Pain Relieving Bath Soak Recipe for Sore Muscles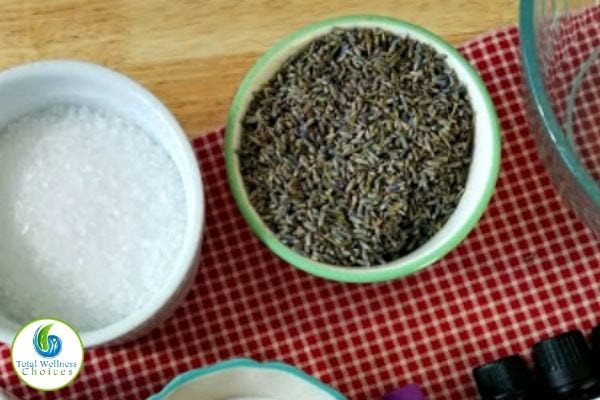 Epsom Salt
Epsom salt (it's actually not a salt) is a naturally occurring mineral compound that is made up of magnesium and sulfate.
There are numerous health benefits of Epsom salt, which include drawing toxins out of your body, relaxing the nervous system, stress relief, pain relief and of course soothing sore muscle.
It is important to note that the two components of Epsom salt (magnesium and sulfate) are easily absorbed through the skin, making using them in bath salts very effective.
Peppermint Essential Oil
Peppermint is one of the best essential oils for muscle pain. It provides an icy-hot sensation that helps to relieve sore muscles and joints. peppermint is also helpful for increasing circulation and reducing inflammation.
Eucalyptus Essential Oil
Eucalyptus is a great essential oil that helps to increase circulation. It is also said to reduce inflammation, ease pain and soothe sore muscles.
German Chamomile Essential Oil

German chamomile is an essential oil with excellent relaxing properties. It is the perfect essential oil to use for relieving pain and sore muscles.
Frankincense Essential Oil
Frankincense is said to provide healing that starts from the inside and spreads to every part of your body.
It calms inflammation, soothes pain and relieves achy muscles. In addition, frankincense also provides relaxation and helps to uplift the spirit.
Sweet Almond Oil
This is for diluting the essential oils. You should never use essential oils topically without dilution. Learn how to dilute essential oils here.
Dried Lavender
Lavender is known for its amazing relaxing properties. It helps to ease tension, pain as well as achy muscles.
Food Coloring
Adding food coloring is optional. It adds a dash of color to the bath salt, making it look more appealing.
DIY Sore Muscle Soak Recipe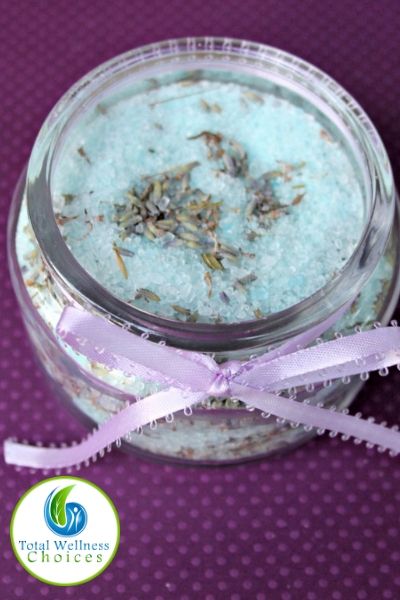 Ingredients
Instructions
Put the Epsom salt into a glass bowl. Add the dried lavender to the Epsom salt. Blend the essential oils and the sweet almond oil in a separate jar/bowl before adding to the Epsom salt. Add a few drops of food coloring (optional). Give everything a good stir until well combined.
Store the pain relieving bath soak in an airtight container until ready to use.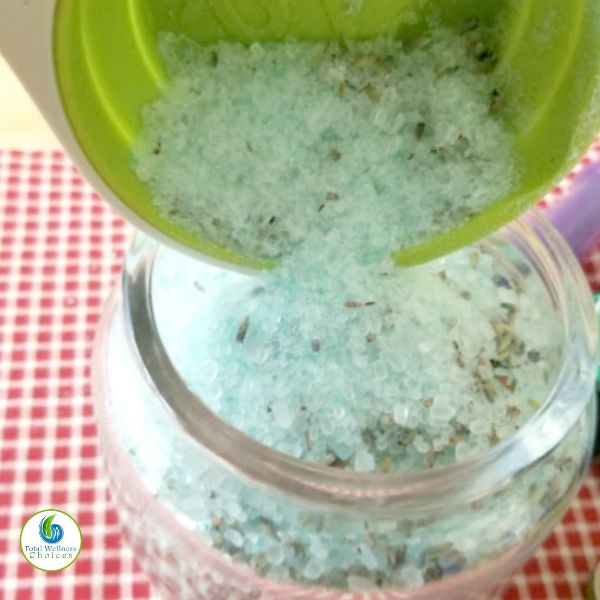 To use, add 1/2-1 cup of the bath soak in warm bath and soak for about 30 minutes.
Give this homemade bath soak for sore muscles a try and tell us how it goes in the comment section.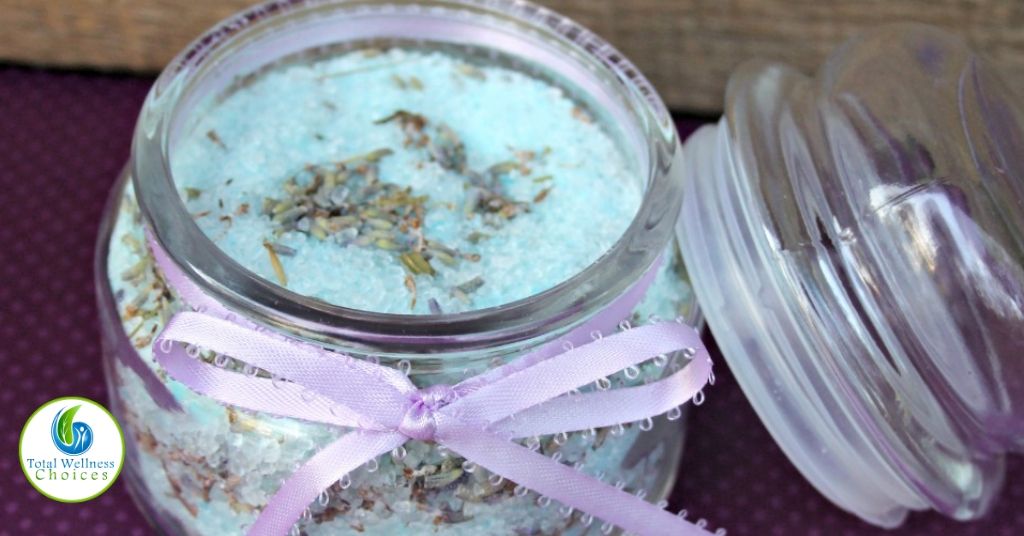 This post is for educational and informational purposes only and does not intend to diagnose or treat any disease.