This post may contain affiliate links. I may be compensated if you make a purchase through a link on this page.
Cheerful Bath Salts Recipe – DIY Bath Salts without Epsom Salt!
This bath salts recipe is easy to make with a happiness or cheerful type essential oil blend. Learn how to make DIY bath salts without Epsom salts for yourself or to give as a gift.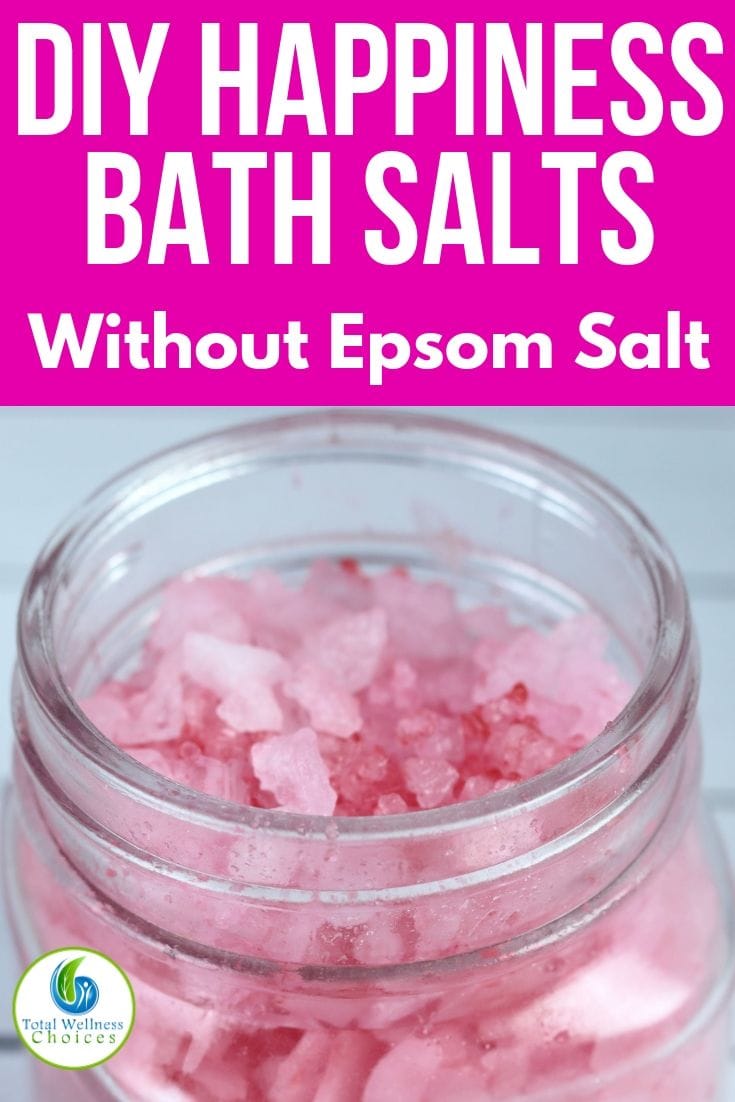 Bath salts are one of the easiest DIY bath and body recipes to make. You just have to mix the ingredients and stir well.
You don't need to use the stove, a microwave, a scale, or any special equipment. Even though these are simple and easy to make, they still look pretty and work to moisturize the skin and turn your bath into an aromatherapy spa.
This aromatherapy bath salts recipe was originally made using an essential oil blend called Happiness. It has several oils in it that promote happiness and calming feeling.
Sadly, this blend is no longer easily obtained. You may be able to find it on eBay, or by searching the internet. I liked it because it was a wonderful therapeutic blend with a great aroma. Don't fear I found some replacements that I think you will like. Also, if you like making your own blends this is a great recipe to do so!
Using a blend makes it easy to get an uplifting aromatherapy scent without buying a lot of different oils.
These make a wonderful any time of the year gifts, including a great teacher gift. Who wouldn't want the gift of an aromatherapy bath salts recipe?
Related:
Cheerful Bath Salts Recipe
Most bath salt recipes have Epsom salts, but this is DIY bath salt without Epsom salts and uses magnesium flakes instead.
Both Epsom salt and magnesium flakes have magnesium, Magnesium is a mineral that is involved in more than 300 functions in the body.
Most people are actually deficient in magnesium. Magnesium can be absorbed through the skin, so taking a bath in Epsom salts or magnesium flakes can help restore magnesium levels.
Soaking in magnesium in the bath can help detox the body and reduce inflammation. It can also help hydrate the skin and soothe certain skin conditions like eczema or psoriasis.
Ingredients Used in Making this DIY Bath Salts


Magnesium Flakes
Epsom salts are made of magnesium and sulfate. Magnesium flakes are magnesium and chloride. Neither one is technically a salt, but they are referred to as salts.
The difference between the two lies in chemistry. When they are dissolved in water, both dissolve into their respective molecules.
Epsom salt turns into a magnesium ion and a sulfate ion. Magnesium flakes, however, turn into one magnesium ion and two chloride ions. And the body uses chloride to balance electrolyte levels.
This is important for your overall health because electrolytes help conduct small electrical currents in the body, which helps information move through muscles, nerves, and other tissues.
If your electrolytes are off balance, you can feel like you are dehydrated and feel off. Since magnesium flakes have chloride, they can help restore electrolyte balance in the body
Magnesium flakes are also gentler for your skin. Those with sensitive skin or children may be sensitive to Epsom salts, so the flakes make a better choice for children or those with sensitive skin.
Sulfates are also important for your body. They can help with protein and insulin functions, and a deficiency can be linked with inflammation and certain disorders.
You can use Epsom salts in this aromatherapy bath salts recipe. Just use the same amount of Epsom salts as the magnesium flakes.
Sea Salt
The magnesium flakes are mixed with sea salt, which helps give this aromatherapy bath salts recipe an interesting texture.
Sea salt has a lot of different minerals like calcium, potassium, sodium, and magnesium. These all help support skin health.
Sea salt can help hydrate the skin, so these are a bath product to use in the winter when your skin tends to get dry.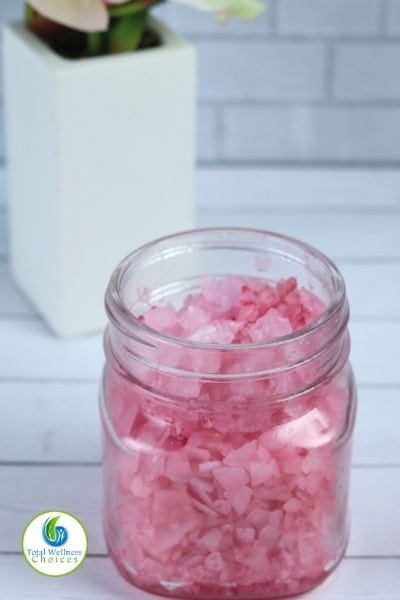 Sweet Almond Oil
Essential oils are oil based, so they won't mix with the water. Use a carrier oil like sweet almond oil to dilute the essential oils before you add them to the flakes and salts.
If you don't use a carrier oil to dilute your essential oil, the essential oils can sit on top of the water and collect in a higher concentration in some areas.
This can cause redness or even a rash or itching if you use essential oils undiluted. To be safe, dilute with a carrier oil before adding them to this bath salt recipe.
I chose sweet almond oil because it's a wonderful all-purpose carrier oil. It has fatty acids that moisturize the skin and help heal dry skin.
It is also high in vitamin E, a powerful antioxidant. Vitamin E can help protect your skin from the signs of aging and sun damage.
Happiness Essential Oil Blend
I originally used the Happiness essential oil blend from Crafty Bubbles. Sadly, it is no longer available from Amazon. You may be able to find it in a craft store.
It had the following essential oils in it's blend. You can make your own blend, or use one of my suggested alternative blends instead.
Crafty Bubbles Essential Oil Blend .5oz Happiness
Patchouli
Lavender
Orange
Ylang ylang
Amyris
Cassia
Ginger
Magnolia flower
Lemon
Myrrh
Peppermint
Pine
Rose
This is a fun and interesting scent. The patchouli isn't too overpowering, and the lavender, orange, and ylang ylang help lighten the patchouli.
I like using blends because then I don't have to buy all of the single oils to create a new scent. This helps save a lot of money, and I only have one bottle to store instead of several bottles.
You can, of course, use your favorite essential oils in this bath salts recipe. If you want an uplifting scent, I suggest using one of the following oils:
Grapefruit to balance
Bergamot to invigorate
Helichrysum for calming
Frankincense for balance
Lavender for calming
Lemon to elevate mood
If you do use a different essential oil or make your own blend, just use the same amount as the recommended drops in this aromatherapy bath salts recipe.
Safety First When Using Essential Oils
If you have never used a certain essential oil it is important to do a skin patch test prior to topically using! See my sections on topical use and other essential oil safety concerns:
DIY Bath Salts without Epsom Salt

Ingredients
Directions
Combine the magnesium flakes and sea salt in a small bowl.
Combine the sweet almond oil and the essential oil of your choice in another bowl. Stir well.
Add the essential oil and carrier oil mixture to the salts. Add a few drops of soap colorant if desired.
Stir well and spoon into a cute container.
To use, place ½ to 1 cup of these DIY bath salts without Epsom salts in the tub as it's filling. Store leftovers in a covered container.
These DIY bath salts without Epsom salts make a great gift. You can put them in an 8-ounce mason jar and tie with jute or a piece of ribbon for an easy gift idea.
Go ahead and make your own DIY bath salts without Epsom salt and tell how it goes.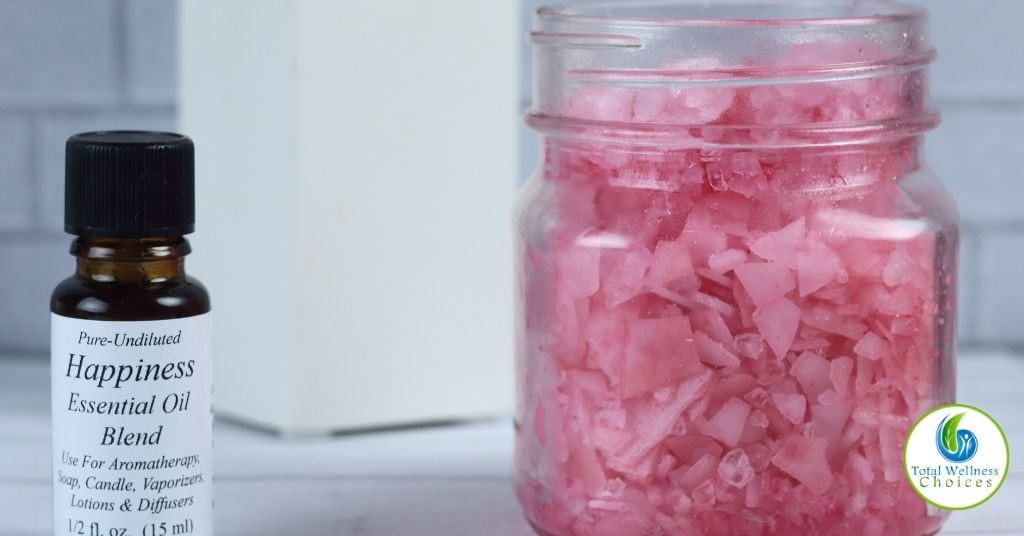 These statements have not been evaluated by the Food and Drug Administration. This article is for educational and informational purposes only and does not intend to diagnose or treat any disease. It is always recommended that you seek the advise of your private medical doctor.