This post may contain affiliate links. I may be compensated if you make a purchase through a link on this page.
How to Make Kombo Butter Salve for Pain using Nourishing Salves and Essential Oils!

This homemade kombo butter salve recipe with nourishing butters and essential oils is one that I find works great for my acute pain and inflammation concerns!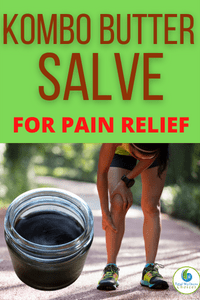 This is a salve that I have used to help relieve the severe wrist pain I developed.
I have osteoarthritis in my wrists and hands and from time to time the pain can get intense.
In addition to the arthritis I have had a couple of falls where I used my hand and wrist to break the impact of the fall.
As I can attest to, it is not fun suffering from acute pain and/or inflammation! Maybe you can relate??
Perhaps you've had a bad sprain (like I ended up having after my fall), or a strain, or a repetitive type injury? Or, is it chronic joint pain that you find unbearable at times?
Ask anyone who has suffered from acute extremity pain and they may tell you they have tried multiple over the counter medications, as well as, ice or heat to try and find some relief.
For me, I always have my DIY Kombo Butter Salve with essential oils available!
I like using natural ways to help with my pain and this blend works for me. If you ready to give this salve a try, then keep reading!
So What Makes this Kombo Butter Salve with Essential Oils SPECIAL?
KOMBO BUTTER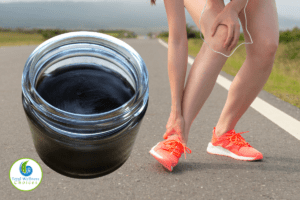 You might be asking, what makes this salve special? I will tell you why. First of all, this salve is made with kombo butter. Kombo butter all by itself has natural pain relieving components.
Unrefined kombo butter keeps its myristoleic acid component. Myristoleic acid is thought to be useful for treating muscle and joint pain. (It is important to buy unrefined kombo butter!)
Kombo butter is used also for nourishing, calming and softening the skin. It has a non greasy, yet very moisturizing feel to it.
I love it's beautiful color. Kombo butter has a naturally rich, dark cocoa brown color. Some may appear to be a dark dark blue shade, but mine appears to be a lovely deep brown color.
For me kombo butter doesn't stain, but I always massage it thoroughly into the area for a few minutes.
Note: Occasionally some people find that kombo butter causes skin irritation. I suggest trying only a small amount first on your skin to see if you react.
SUBSTITUTE FOR KOMBO BUTTER
Even though kombo butter is the "star" in this recipe you may be wondering what you can substitute. Unrefined cold pressed virgin coconut oil is one that I have found works in a pinch.
One study done suggested virgin coconut oils has "anti-inflammatory, analgesic, and antipyretic properties".
PALM KERNEL OIL
Palm kernel oil has a high percentage of lauric acid which helps to keep the blend smooth.
It is also high in myristic acid. Myristic acid adds an anti-inflammatory component that makes it a great addition to products made for ligament, tendon and muscle injuries.
SUBSTITUTE FOR PALM KERNEL OIL
You may use shea butter in place of palm kernel oil if you are not able to obtain it.
Shea butter is a great moisturizer for dry and damaged skin. It is considered by many as having healing qualities to it. Great for any skin care product.
TRAUMA OIL
Trauma oil is a herbally-infused oil blend. It combines arnica oil, St. John's wort oil and calendula oil.
Each herb adds to the blend. Calendula adds the skin nourishing and healing component. Arnica gives the anti-inflammatory, analgesic and tissue healing actions. St. John's wort provides relief for nerve pain and injury.
Note: Important not to put on broken or open skin! I don't recommend using in children under the age of 12.
The brand I currently purchase from Amazon is unavailable. You can purchase through other reputable companies including: www.aromatics.com.
SUBSTITUTE FOR TRAUMA OIL
Not able to find trauma oil? You can use a plain carrier oil of your choice, or a herb infused oil.
Calendula infused oil, or peppermint infused oil are my recommendations as either are considered useful for pain.
You can find out how to make calendula infused oil here.
ESSENTIAL OILS
This kombo butter salve recipe includes essential oils (Siberian fir, helichrysum, frankincense carterii, and juniper berry).
Each of these oils has properties that help provide pain relief – they are natural pain relievers!
You don't have to add the essential oils. The other ingredients have components in them that help pain. I like adding essential oils to give it an extra boost.
You can make your own blend of essential oils, or use an already made blend. Here is an already made essential oil blend for muscle pain and inflammation called Edens Garden Muscle Relief Synergy Blend.
SIBERIAN FIR ESSENTIAL OIL
Siberian fir contains analgesic and anti-inflammatory properties due to it's main component bornyl acetate. This makes it helpful for muscle pain, joint pain and inflammation.
HELICHRYSUM ESSENTIAL OIL
Helichrysum also contains analgesic and anti-inflammatory properties due to it's chemical component neryl acetate.
It is useful for musculoskeletal pain and injury, including tendon or muscle injuries, bruising, swelling, and inflammation.
FRANKINCENSE CARTERII ESSENTIAL OIL
Frankincense carterii contains analgesic properties due to it's chemical components that can include α- and β-pinene, d-limonene, β-myrcene, and para-cymene.
It is thought to be useful for relieving tight muscles, and for inflammation and joint pain.
Due to it's skin healing properties, frankincense is used also to help protect the skin in this blend.
JUNIPER BERRY ESSENTIAL OIL
Juniper berry contains a dominant component monoterpenes. Monoterpenes have been noted to have analgesic and anti-inflammatory actions.
Juniper Berry not only is thought to have anti-inflammatory and pain relieving actions, but also a warming effect which also makes it useful for rheumatic conditions.
This Diy Pain Relief Cream Can be Used for:
Sore muscles
Arthritis
Joint Pain
Inflammation
Pulled muscles
Strains
Sprains
For another great recipe for body aches and pains check out my how to make a homemade pain relief salve.
For headaches, check out my other article on how to make diy headache relief balm!
Safety When Using this Recipe and Essential Oils
Always consult a physician first regarding your pain or injury! Also, important to reach out to your doctor if you have chronic medical problems, or are on prescriptions medications before using!
Note: This recipe is only for children over the age of 12. Not recommended if pregnant or nursing baby.
Always, do a skin patch test prior to topically using an essential oil you have never used before! See my sections on essential oil safety:

Homemade Kombo Butter Salve Recipe
You will Need
1 oz (28 gm) trauma oil, or infused calendula or peppermint oil
This makes 3 ounces. If you prefer you can use three – one ounce glass or metal containers.
This is a 3% essential oil blend recipe which can be used for short term problems. I recommend using for no more than 14 days.
You can always decrease the amount of essential oils (say use half the total amount) if you intend to use it for a longer time frame.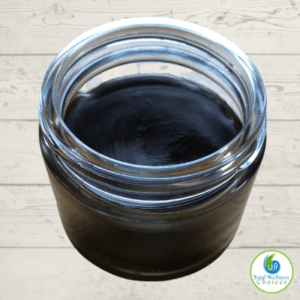 Instructions
Melt your beeswax in a double boiler on stove over low heat
Add your kombo butter (or unrefined coconut oil), palm kernel oil (or shea butter), and trauma oil (or calendula/peppermint infused oil) and stir until melted
Next, add the essential oils and stir thoroughly
Pour into the clean glass or containers
Stir lightly, and let cool before you place your lid
Store at room temperature for best results
By making this homemade kombo salve yourself, you will have a more substantial quantity to always have on hand for all your serious aches and pains.
Just use a small amount of the kombo salve to massage the affected area for up to two weeks as needed to help relieve the pain!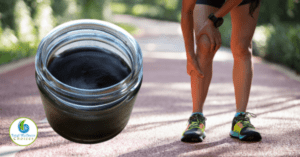 These statements have not been evaluated by the Food and Drug Administration. This article is for educational and informational purposes only and does not intend to diagnose or treat any disease. It is always recommended that you seek the advise of your private medical doctor.