This post may contain affiliate links. I may be compensated if you make a purchase through a link on this page.
Best Essential Oils for Vertigo to Help Relieve Dizziness and other Symptoms!
You can get natural relief from dizziness with the essential oils for vertigo featured in this post. These oils help reduce symptoms by promoting stress relief and reducing nausea.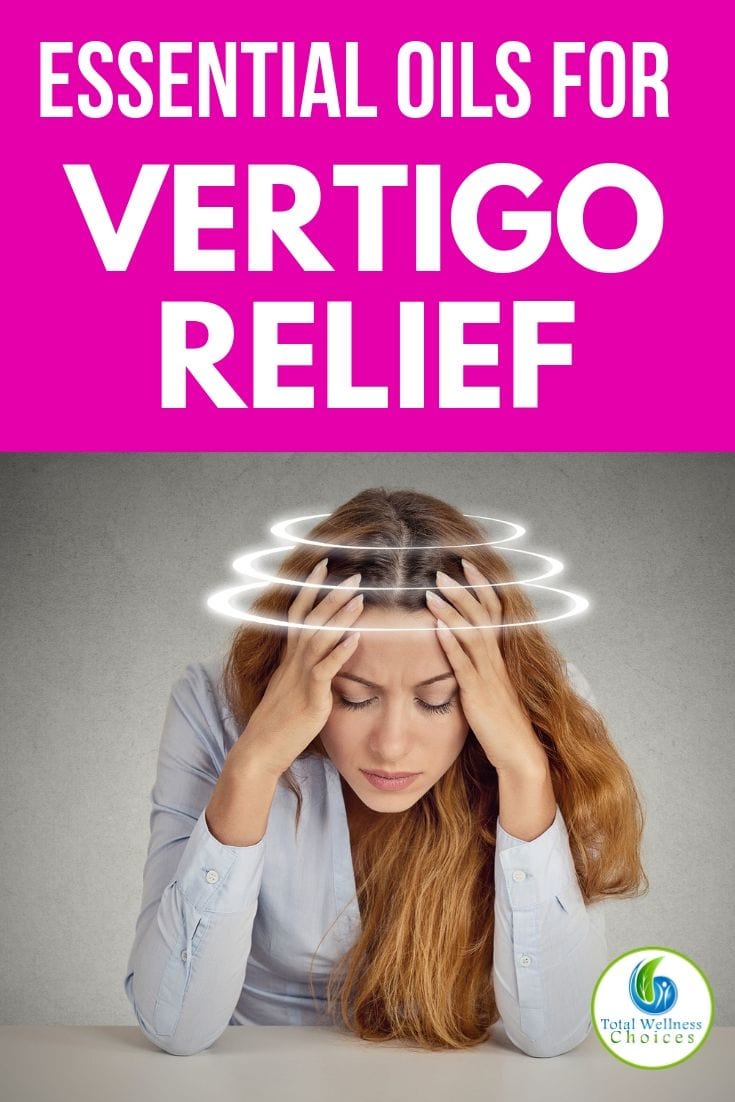 Vertigo is when you feel like you are spinning or dizzy when you are barely moving or sitting still. You feel off balance, even though your body is standing, sitting, or lying still.
This feeling can make you feel like you are going to fall down, so it's best to lie down or sit until it passes so you don't get hurt.
Vertigo is usually a symptom of another condition. Some people will have vertigo a few times in their life, but others will experience it more often.
Vertigo can last for a few minutes or several hours. It can come and go throughout the day.
It can also lead to vomiting or nausea, headaches, sweating, or abnormal eye movements. Some people may even experience ringing in their ears, double vision, problems with hearing, poor coordination, or weakness in their limbs.
Vertigo is usually caused by a problem in the inner ear, but it can also be due to a neurological problem or sensory problem.
ALWAYS CONSULT YOUR PHYSICIAN FIRST IF YOUR SYMPTOMS ARE NEW AS IT CAN INDICATE A LIFE THREATENING PROBLEM!
Alcohol, stress, depression, anxiety, tobacco, and caffeine can all make vertigo worse.
How Do Essential Oils Help Vertigo?
It's important to note that using essential oils for vertigo don't eliminate the vertigo per se, but they can help relieve stress and help with nausea.
Essential oils can help promote better sleep and naturally relieve stress, which can help reduce vertigo symptoms.
If you are nauseous or are vomiting due to vertigo, there are oils that can help ease those symptoms, too.
Before you use essential oils for vertigo, think about what symptoms you are experiencing and whether there is a trigger such as stress that you can relieve.
Then choose the appropriate essential oils to help your symptoms.
Top 11 Essential Oils for Vertigo Relief

#1. Lemon Balm (Melissa)

Lemon balm also known as Melissa is said to reduce stress and promote relaxation. It can help promote better sleep, which can help reduce the stress that can lead to vertigo.
Lemon balm essential oil can also help reduce vomiting and nausea if you experience those symptoms during bouts of vertigo.
Plant Therapy Melissa Organic Essential Oil | 100% Pure, USDA Certified Organic, Undiluted, Therapeutic Grade | 2.5 Milliliter (1/12 Ounce)
#2. Peppermint
Peppermint has two compounds that can help naturally relieve vertigo. It can help improve focus and your mood while it reduces muscle spasms if you experience an upset stomach. Peppermint is often useful for those who experience nausea during their vertigo.
#3. Ginger
Ginger is one of the best essential oils for nausea and upset stomach ache. It can also energize you when you use it in aromatherapy.
Use ginger for your vertigo if you have nausea.
#4. Lavender
Lavender essential oil is one of the best essential oils to have in your stash of oils because it has so many uses. It can help relax you and lower anxiety. It can also promote better sleep.
Use lavender if you think that your vertigo is related to stress or anxiety.
Plant Therapy Lavender Essential Oil. 100% Pure, Undiluted, Therapeutic Grade. 10 ml (1/3 oz).
#5. Basil
Basil EO is a great oil for nausea and vomiting. It also promotes relaxation, stress relief, depression, and anxiety. Use basil for nausea and stress relief.
#6. Clary Sage
Clary sage is another great dual purpose oil. It can help relieve anxiety and balance your mood. It can also help reduce dizziness. When used at night, it can promote better sleep.
Use clary sage for stress relief, balance and nausea.
#7. Rosemary
Rosemary can help relieve headaches and reduce dizziness. It's also said to help you relax.
Use rosemary for both dizziness and to promote relaxation.
#8. Rose
Rose EO can help reduce symptoms of both anxiety and depression, which can reduce episodes of vertigo.
Use rose essential oil for stress, anxiety, and depression relief.
Plant Therapy Rose Absolute Essential Oil | 100% Pure, Undiluted, Natural Aromatherapy, Therapeutic Grade | 5 milliliter (1/6 ounce)
#9. Frankincense
Frankincense is said to be a natural anti-inflammatory. It can help reduce inflammation in the inner ear that can cause vertigo.
Frankincense can also help promote better sleep by relaxing you.
Use frankincense in a blend for both its anti-inflammatory effects and for relaxation.
#10. Geranium
Geranium can help naturally relieve depression and stress. It also promotes relaxation.
Use geranium if your vertigo is caused by depression or stress.
#11. Bergamot
Bergamot works as a natural antidepressant due to the limonene and alpha-pinene compounds in it. It can also help promote the secretion of digestive juices.
You can also use bergamot for both depression and nausea.
Plant Therapy Bergamot Essential Oil | 100% Pure, Undiluted, Natural Aromatherapy, Therapeutic Grade | 10 milliliter (1/3 ounce)
How to Use Essential Oils for Vertigo
Depending on your symptoms, you can combine two or more essential oils for vertigo. You can combine them as you make your topical recipe or in your diffuser.
You can also create a master blend in an empty essential oil bottle.
Create your own blend or use one of the following blends:
1 drop lavender, 1 drop peppermint, 1 drop frankincense
1 drop frankincense, 1 drop ginger, 1 drop peppermint
5 drops peppermint, 3 drops rosemary, 3 drops lavender
1 drops peppermint, 1 drop ginger
Topical Application
It's important that you never use essential oils undiluted. Some oils can be applied neat, but you have to be careful with them and only use them neat under advice from an aromatherapist.
Applying essential oils directly to your skin can cause inflammation, redness, irritation, and pain. However, you can safely apply oils to your skin by diluting them with a carrier oil.
There are several carrier oils that you can use to dilute your essential oils. Some of the more common ones are:
Avocado oil
Grapeseed oil
Sunflower oil
Use essential oils in a 1 to 2% dilution with a carrier oil. You can add three to six drops of essential oils per two teaspoons of a carrier oil.
After you dilute the essential oils with a carrier oil, massage it on the back of your neck, temples, or forehead for relief.
You can also create a roller bottle by using between 3 and 6 drops of essential oils in a 10 ml roller bottle.
Diffusion
You can also use one or more of these essential oils in aromatherapy for vertigo relief by diffusion.
Add 3 to 5 drops of essential oils per 100 ml water in your diffuser.
Inhaler
To make a personal inhaler, add 15 drops of essential oils to a personal inhaler and use it when you feel the symptoms of vertigo.
Safety First When Using Essential Oils
If you have never used a certain essential oil it is important to do a skin patch test prior to topically using! See my sections on topical use and other essential oil safety concerns:
I hope you find these essential oils for vertigo helpful in relieving dizziness and other symptoms.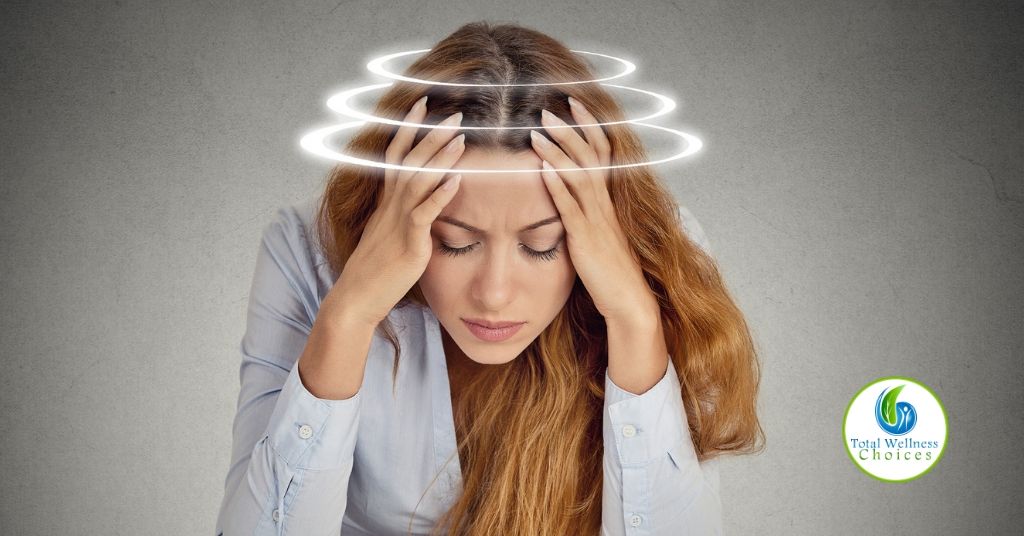 These statements have not been evaluated by the Food and Drug Administration. This article is for educational and informational purposes only and does not intend to diagnose or treat any disease. It is always recommended that you seek the advise of your private medical doctor.