This post may contain affiliate links. I may be compensated if you make a purchase through a link on this page.
Easy Homemade Hibiscus Lotion Bar Recipe for Mature and Dry Skin!
This homemade hibiscus lotion bar recipe is easy to make with five ingredients. The hibiscus infused carrier oil along with the nourishing butters promote moisturizing, calming and healing to the more mature and dry skin types.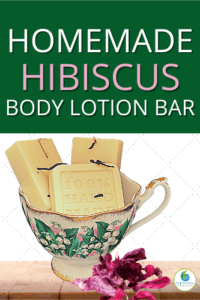 This easy to make lotion bar recipe uses an infused hibiscus oil, kokum butter, shea butter, beeswax, and vitamin E oil to make a nourishing and moisturizing lotion bar for mature and dry skin.
Solid lotions are convenient for on the go because they don't spill. I do recommend storing it in a container because they can get soft or melt in high heat.
Related:
Hibiscus Solid Lotion Bar Ingredients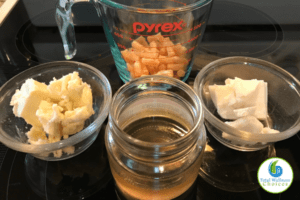 Hibiscus
Hibiscus oil is made by infusing dried hibiscus flowers in a carrier oil. This gives the oil the benefits of the hibiscus flower.
Hibiscus flower is known for its anti-aging properties, It is rich in vitamin C and antioxidants.
These antioxidants are thought to be helpful in improving skin health by guarding it from radical damage and delaying the premature aging of the skin.
Apricot Oil
I chose to use apricot oil as the infusing oil in this recipe. Apricot oil is a medium weight oil so it penetrates well into the skin without the heavier weight of some oils.
Apricot oil is said to help improve skin tone. It also helps with nourishing, and maintaining the softness and radiance of the skin.
The vitamin C and E components it has help to lower the appearance of fine lines and wrinkles. They also help decrease the appearance of blemishes.
Kokum Butter
I used kokum (Pronounced: Coke-um) butter in this hibiscus solid lotion recipe because it has moisturizing properties and is said to be less likely to clog the pores than other butters.
Kokum butter also has antioxidant, anti-inflammatory, and antibacterial properties which are helpful in any skin care product.
Similar in hardness to cocoa butter it is also one of the most stable vegetable butters there is.
Kokum Butter is also a nice product to use if you want a product that penetrates well and leaves the skin soft without the greasy residue feel that some skin care products have.
Shea Butter
Shea butter is a wonderful body butter to use in skin care products. It is known to restore elasticity to the skin, reduce blemishes and wrinkles, and increase circulation in the skin.
Beeswax
I added beeswax for two reasons. First, it's very hard at room temperature. This helps a solid lotion recipe like this one stay solid.
The second reason I like using beeswax is how it coats the skin, trapping the oils and butters on your skin so they work for hours after you use the lotion.
Vitamin E Oil
Vitamin E is another oil that I like to add to body care products. Not only does it help keep the product from becoming rancid, it helps moisturize one's skin and decrease fine lines and wrinkles.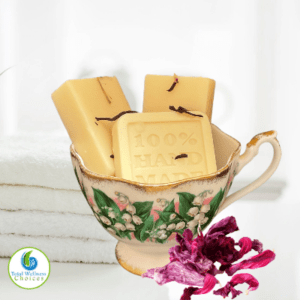 How to Infuse Oils with Herbs
Before you make this hibiscus solid lotion bar, you'll need to infuse the carrier oil with dried hibiscus flower. I have included a fast method below.
If you wish to infuse using a slow infusion method just follow the instructions included in my homemade whipped hibiscus body butter recipe.
Fast Infusion Method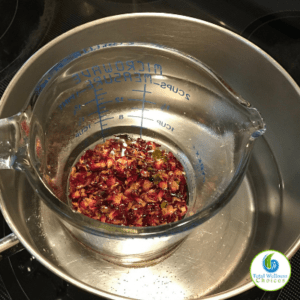 1. Place 1/4 cup dried hibiscus petals in a glass Pyrex measuring cup or jar.
2. Pour approximately 1/3 to 1/2 cup carrier oil (I used apricot) over dried flowers until completely covered by the flowers.
3. Place glass Pyrex measuring cup with the oil and dried flowers in a double boiler on lowest available heat for at least 2 – 4 hours.
4. Pour the mixture through a strainer to remove the hibiscus flowers from the oil. (Optional: Pour the oil through an additional strainer – such as a cheese cloth – to remove any fine particles that may have been left in the oil)

How to Make Hibiscus Lotion Bars
Ingredients
2 oz (57 gm) hibiscus infused oil
2 oz (57 gm) kokum butter
2 oz (57 gm) shea butter
2 oz (57 gm) beeswax
⅛ teaspoon (0.54 gm) vitamin E
Tools
Directions
Weigh the hibiscus infused oil, kokum butter, shea butter, and beeswax (also vitamin E if using gram measurements) and set aside.
Place beeswax and kokum butter in a double boiler. I set my 2 cup (500 ml) Pyrex measuring cup inside a pan of water with the handle hanging over the edge of the pan.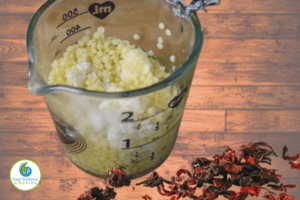 If you wish you can place the Pyrex measuring cup on a canning jar ring so it's lifted from the bottom of the pan. Do not heat oils over direct heat; always use a double boiler. Heat until almost totally melted.
Add shea butter and hibiscus infused oil and stir well until the added ingredients are almost totally dissolved.
Carefully remove the measuring cup from the pan and set on a heat proof surface. Use hot pads because the cup will be hot.
Stir in the vitamin E oil and continue mixing until totally melted.
Carefully pour into the molds. This makes approximately 8 fluid ounces (250 ml). The mold I used has 3 ounce (88.7 ml) cavities, so I didn't fill each cavity completely to make three solid lotion bars that are about the same size. (I cut each one in half to make six bars). I also had enough to make a small mold.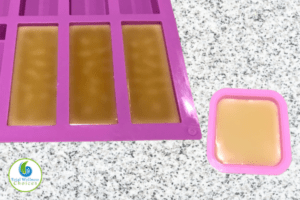 Let cool completely. This will take about two to three hours. Unmold them and they are ready to use. I cut my long bars in half.
I also put my solid lotion bars in a tin or in a soap dish so they don't get oils on surfaces. You can wrap extras or put them in a container like this one to keep them from getting dusty.
Now, try making this DIY hibiscus lotion bar recipe and let us know how it goes.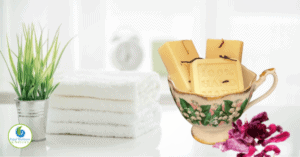 These statements have not been evaluated by the Food and Drug Administration. This article is for educational and informational purposes only and does not intend to diagnose, treat, cure, or prevent any disease or health condition. It is always recommended that you seek the advise of your private medical doctor.