This post may contain affiliate links. I may be compensated if you make a purchase through a link on this page.
Easy to Make Chamomile Bath Melts Recipe!
How to make bath melts using chamomile infused cocoa butter. These easy to make bath melts nourish and moisturize skin.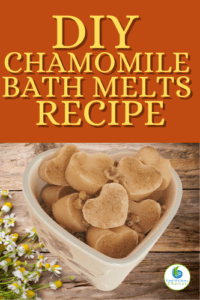 These adorable heart shaped chamomile bath melts are great for dry or irritated skin, and they smell amazing.
This recipe uses dried chamomile flowers that have been infused in cocoa butter which adds a beautiful yellow color if you wish to keep it all natural.
Some finely ground chamomile flowers (I used a food processor) is added at the end to add some texture without clogging the drain. When they melt in the bath, you're left with fine, yellow-gold appearing flecks floating on top of the water.
These bath melts are easy to make with two natural butters, vitamin E oil, and an emulsifier. For a natural fragrance I added a couple of essential oils. (This is optional)
Related:
Ingredients for DIY Chamomile Bath Melts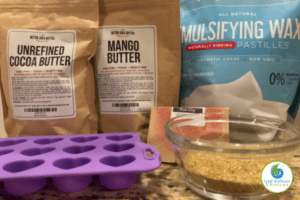 Mango Butter
I used both mango butter and cocoa butter for this chamomile bath melts recipe because both butters have different properties.
Mango butter is a soft butter, and melts at about 86 degrees Fahrenheit. It's not greasy, so it won't leave your skin feeling oily after you use it.
Mango butter is high in vitamins A and E for your skin. It's also an excellent natural butter for hydrating and moisturizing dry skin.
Cocoa Butter
As much as I love mango butter for dry skin, it is a very soft butter. Adding cocoa butter keeps this recipe firm enough to hold it's shape.
Cocoa butter is high in antioxidants, which have anti-aging properties for your skin. It's also moisturizing for your skin, so it's an excellent butter to use for dry skin.
Emulsifier
Like my first bath melts recipe, "DIY Rose Bath Melts", this recipe also includes an emulsifier. If you don't use an emulsifier, the butters just sit on top of the water and don't mix with it.
That means you'd be sitting in a tub of water with a thin layer of oil on top, so you won't get the nourishing benefits of the mango butter and cocoa butter.
Emulsifying wax melts at 122 to 129 degrees Fahrenheit; whereas, mango butter melts at about 86 degrees and cocoa butter melts at about 93 to 101 degrees.
When you melt the butters and emulsifying wax, use a laser thermometer to check the temperature.
Make sure it reaches 129 degrees or the emulsifying wax will get streaky after it sets up. If this happens, they are still safe to use.
Vitamin E Oil
Vitamin E oil is rich in antioxidants that inhibit free radicals that cause aging. Hence, it helps to makes one's skin look more youthful.
I also like to add vitamin E to my homemade skin products as it helps prevent the product from becoming rancid.
Essential Oils (optional)
I chose to use a couple of essential oils in this recipe. I used geranium and frankincense as both are gentle on the skin and have a nice fragrance together.
You can use other essential oils such as lavender, rose, Roman chamomile, or none at all!
Dried Chamomile Flowers

Chamomile is often used as a tea, but the dried flower buds can also be infused in oil to use topically for the benefits. It is high in antioxidants and is naturally anti-inflammatory.
Chamomile is great for dry skin and eczema because it is anti-inflammatory and gentle on the skin.
The phytochemicals and polyphenols chamomile contains also can promote skin healing, and thus helps heal dry skin and eczema.
Always use dried chamomile flowers. If there is any moisture in the flowers, the product can grow mold or bacteria.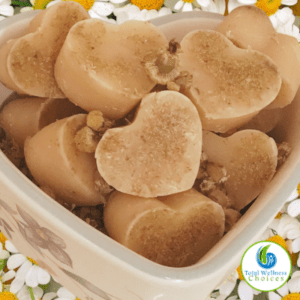 How to Make Bath Melts with Infused Dried Chamomile Flowers
This recipe consists of two parts:
The first part of recipe is where you make the chamomile infused melted butter using the cocoa butter. This can take three to four hours.
The second part is where you pull the recipe together using all of the ingredients including the chamomile infused cocoa butter. This is the quick and easy part. You will notice I am using a kitchen scale to make the recipe more accurate.
Ingredients for Chamomile Infused Cocoa Butter (Part 1)
Part One: Directions for Making Chamomile Infused Cocoa Butter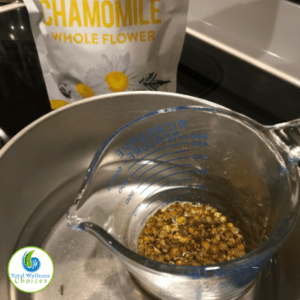 Use a digital scale to weigh the cocoa butter.
Use a 16 ounce glass measuring container set over a water filled medium saucepan (the water should cover the bottom of the double boiler) set at warm or lowest setting.
Put the 3 ounces (85 gm) weighed cocoa butter and approximately 1/4 cup (60 ml) dried chamomile flower buds in the double boiler.
Let the cocoa butter and dried flowers simmer over lowest heat setting (warm or low) for 3 to 4 hours. (The cocoa butter will melt to oil consistency).
Allow to cool some, then strain the chamomile infused oil mix using a cheesecloth or fine mesh strainer to remove the herb pieces, then use the melted infused chamomile cocoa butter for the 2nd part. (You will use 2 ounces of the infused oil for this recipe – don't worry if it hardens as you will add to recipe and reheat)
Ingredients for Recipe (Part 2)
2 oz (56 gm) Chamomile infused cocoa butter
Tools
Double boiler (I used a 16 oz glass measuring cup inside a pan)
Part Two: Directions Making Recipe
Use a digital scale to weigh the remaining mango butter, and emulsifying wax.
Melt in a double boiler.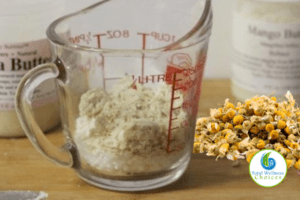 Once it's melted add the infused chamomile cocoa butter. Remove from heat. Stir well for one minute because the emulsifying wax is hard to incorporate into the butters.
Add the vitamin E, essential oils (if using), and a pinch of rose clay (if using for coloring) and stir well again until well incorporated.
Put a pinch of ground dried chamomile flower buds in the mold cavities.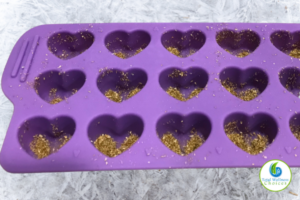 Pour the melted butters mixture over the ground chamomile. Let cool for 12 to 24 hours.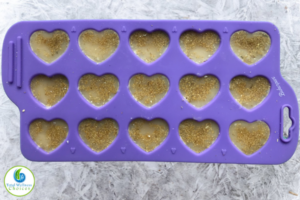 Unmold the bath melts and store in a container with a lid.
These bath melts are potent, so use just one per bath.
Now that you know how to make bath melts with cocoa butter infused chamomile flowers, go ahead and give this recipe a try and let us know how it goes.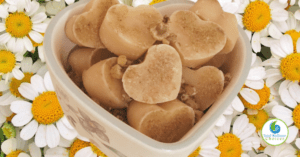 These statements have not been evaluated by the Food and Drug Administration. This article is for educational and informational purposes only and does not intend to diagnose, treat, cure, or prevent any disease or health condition. It is always recommended that you seek the advise of your private medical doctor.