This post may contain affiliate links. I may be compensated if you make a purchase through a link on this page.
An Easy to Make Hibiscus Anti-Aging Face Wash with All-Natural Ingredients for Mature and Dry Skin Types!
If you are looking to make an easy hibiscus face wash for mature and/or dry skin, then you will find this homemade hibiscus anti-aging face wash recipe just the one!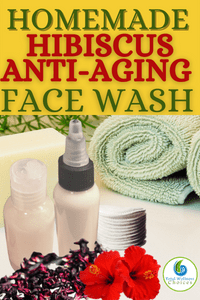 This face wash is one that I find perfect for my more mature, dry skin type. It uses an oil base to moisturize my skin, and includes ingredients that help over time to reduce some of the fine lines and wrinkles.
The best part is that because it is homemade it doesn't include chemical laden ingredients that are often included in similar store bought face wash!
The www.ewg.org (Environmental Working Group) website is one source where you can see which store or on-line bought face cleansers and other products may be safer to use.
However, the products shown by this site to be safe are usually not available in most local markets, or are too expensive for most of us to buy on a regular basis.
I personally like to know that the ingredients in my skin care products are safe and natural. I also like to save money! It is because of this that I prefer to make my own homemade facial cleansers.
Making your own skincare product is great because you control what's in them, using only ingredients that don't irritate your skin.
The best news is that making this homemade hibiscus anti-aging face wash, or another diy face cleanser recipe that you can find here, is not hard.
I find this homemade hibiscus anti-aging face wash works as effectively as store bought face wash.
Hibiscus Flower Oil Infusion Ingredients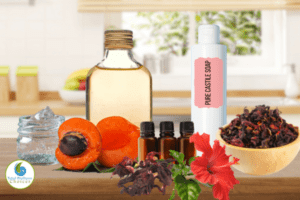 This recipe uses an infused hibiscus oil. Making an infused oil is not hard to do, yet adds that little extra plus to a recipe like this.
Dried Hibiscus Flowers
The hibiscus flower is known for its anti-aging properties. It is rich in vitamin C and antioxidants, called anthocyanocides. The vitamin C component is said to promote collagen production and thus help with tightening, and firming the skin.
It is said to have astringent and anti-inflammatory properties. These properties lessen the secretion of oil by tightening the pores, and lessen inflammation, thus decreasing redness of the skin.
Oils to Use (Your Choice)
For dry and mature skin some of the best oils are: Sweet Almond Oil, Apricot Oil, Avocado Oil, Argan Oil, Evening Primrose Oil, Hemp seed Oil, Jojoba Oil, Meadowfoam seed Oil, Rosehip seed Oil, Sesame seed Oil, and Shea nut Oil.
How to Infuse Dried Hibiscus Flower in Oil
For this recipe I am using the fast infusion method to infuse the dried hibiscus flowers. If you wish to infuse using a slow infusion method just follow the instructions included in my homemade whipped hibiscus body butter recipe.

Fast Infusion Method
Fill a 16 ounce glass measuring cup with 1/3 cup of dried hibiscus flowers.
Cover the dried flowers with the carrier oil. I used apricot oil and poured it over the dried flowers until they were totally covered (approx 2/3 cup oil).
Fill a medium sized saucepan with approximately 2 – 3 inches of water. (High enough that it covers the bottom of the measuring cup, yet not so high that the mix splashes water into the dried flower-oil mix)
Place measuring cup with dried flower-oil mix in saucepan with the handle part hanging over the side of the saucepan.
Heat slowly on simmer or warm for 2 to 4+ hours. (Start on low-medium and once the water is warm turn the heat down as low as it will go.
After it has infused for 2 to 4+ hours remove the pan from the heat source.
Carefully remove the glass measuring cup from the pan.
Using a fine strainer (such as a fine tea strainer), strain and separate the dried hibiscus flowers from the oil. (I put the strainer over a glass jar and strained small amounts at a time).
Store extra hibiscus infused oil in the refrigerator for your next batch, or make extra for friends.

Other Ingredients Used In Recipe
Aloe Vera Gel
The benefits to both skin and hair for aloe vera gel are numerous. One benefit and reason to use in a face wash product, such as this one, is it's moisturizing and healing benefits.
Organic Aloe Vera Gel with 100% Pure Aloe From Freshly Cut Aloe Plant
You can find more about this wonderful ingredient and it's many uses by reading Aloe Vera Benefits For Skin and Hair.
Unscented Castile Soap
Liquid castile soap is a very mild soap, so it's safe for most skin types and even children. Today, you can find liquid castile soap made with olive oil and other oils, usually coconut oil. The soap is gentle and moisturizing for your skin.
Liquid castile soap is gentle on your skin, but it's still a great cleanser. One end of the castile soap molecule avoids water and the other end has a molecule that attracts it.
When liquid castile soap gets wet, it creates atoms that have a charge that attract dirt, grease, and oil.
This is why liquid castile soap is tough enough to clean up spilled kitchen messes and yet gentle enough to use on a body or face wash.
Essential Oils (Optional)
Myrrh oil is wonderful to use in skin care products because it has wonderful skin healing and anti-inflammatory properties. This is due to it's significant amount of a the chemical component, sesquiterpenes.
Due to these anti-inflammatory properties myrrh essential oil is said have great protecting and regenerating potential for the skin.
Geranium Essential Oil
Another essential oil that is considered to have excellent anti-inflammatory and skin healing properties is geranium. This is also due to the large amount of sesquiterpenes it has.
Geranium oil is used in many skincare products because of it's ability to reduce excess oil or dryness, which it is said occurs because of its ability to balance the production of sebum.
Carrot Seed Essential Oil
Carrot seed oil is widely used in natural skin care products and is quite popular with many essential oil advocates who write books, or publish DIY homemade skincare recipes.
It is used in natural skincare products that are made for mature or more delicate-sensitive skin types as it is said to help the skin repair and rejuvenate itself. A study done in 2019 showed this skin rejuvenating potential.
It has antifungal and antibacterial properties which are also thought to be helpful with healing skin infections and irritated skin.
Safety First When Using Essential Oils
If you have never used a certain essential oil, or carrier oil, it is important to do a skin patch test prior to topically using! See my sections on topical use and other essential oil safety concerns:
Homemade Hibiscus Anti-Aging Face Wash
Ingredients
2 ½ Tbsp (37 ml) hibiscus infused oil (see above on how to make)
1 Tbsp (15 ml) aloe vera gel
½ Tbsp (7.5 ml) unscented castile soap
3 drops myrrh EO
1 drop geranium EO
1 drop carrot seed EO
2 fl oz (60 ml) PET plastic bottle with flip cap or twist open/close nozzle
Preservative of your choice (I recommend Germall Plus). Follow manufactures recommendation for amount to use.
Directions
1) Pour aloe, castile, and hibiscus infused oil into 2 fl. oz (60 ml) PET plastic bottle with flip cap or pop up lid.
2) Drop the essential oils (optional) into the base mixture.
3) Add preservative.
4) Cap bottle and gently shake to blend together.
Your cleanser is now ready to use
How To Use
Gently massage over face avoiding eye area.
Using a warm washcloth, gently wash off your face. You may need to repeat this process twice.
Once done, your face should feel renewed and rejuvenated with a natural glow.
If you make it without preservative store in cool, dry place. Some homemade products can go bad in little as 5 – 7 days! If you don't want to keep making a new batch use a preservative!!
There you go, an effective homemade hibiscus anti-aging face wash recipe that is perfect for Idry and mature skin. Give it a try and let us know how it goes!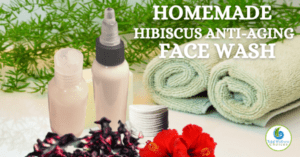 These statements have not been evaluated by the Food and Drug Administration. This article is for educational and informational purposes only and does not intend to diagnose, treat, cure, or prevent any disease or health condition. It is always recommended that you seek the advise of your private medical doctor.