This post may contain affiliate links. I may be compensated if you make a purchase through a link on this page.
Homemade Chocolate Orange Body Lotion Stick for dry skin with the added benefit of a great scent!

This chocolate orange body lotion stick recipe not only has an intoxicating smell for chocolate lovers, but is great for dry skin.
By using both cocoa and shea butter you get a great moisturizing base. And by adding dried cocoa powder to this easy to make recipe you get a double dose of that rich chocolate scent.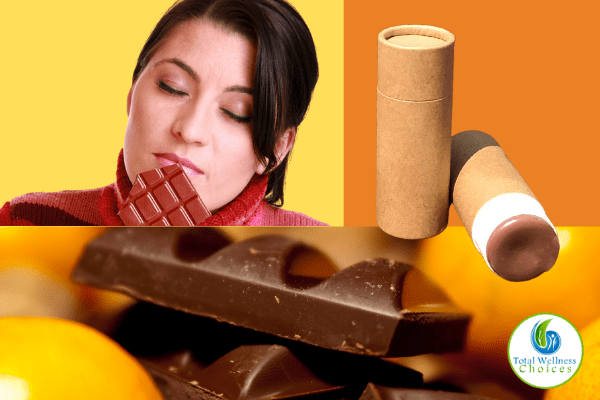 Sweet orange and vanilla essential oils add that extra touch to the cocoa. You can leave the essential oils out and you still have a great, natural scent from the cocoa butter and dried cocoa powder!
If you prefer you can make your own essential oil blend that you prefer – maybe lemon, or mandarin, or sweet marjoram. The choices are endless. Just chose skin friendly essential oils!
This lotion stick smells so good! It reminds me of a favorite dark chocolate-orange candy bar that I get on a rare occasion as a treat. Using it gives me the satisfaction of this favorite treat without the calories!
This makes a great recipe for beginners and those who are new at making DIY bath and body recipes.
Lotion sticks are convenient to carry with you. Since they are solid, there is no risk of spilling or leaking. They are great for putting in your purse, your attaché bag, or in your desk for a natural lotion without worrying about lotion spilling out of the bottle.
I like to use a recycling friendly container such as a cardboard push-up style container when I make my lotion sticks.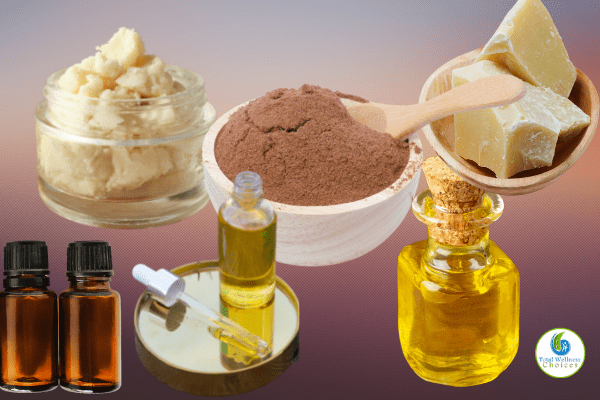 Ingredients for this Body Lotion Stick Recipe
Beeswax
Beeswax is natural wax produced by honey bees of the genus Apis. It gives this solid lotion bar recipe its bulk and makes it solid at room temperature.
By forming a barrier on top of the skin, beeswax helps trap the carrier oils, essential oil, and shea butter against the skin so it can penetrate deeper into the skin.
It was chosen not only to add stability to the product, but because beeswax contains emulsifiers that are all-natural, which in turn help retain moisture in the skin.
Shea Butter
Shea butter is a solid at room temperature, but it starts to melt at body temperature. This helps this solid lotion stick melt as it glides across the skin.
Shea butter contains vitamins and other nutrients that nourish and moisturize the skin. It also has anti-inflammatory properties that soothe and heal and/or itchy skin.
Its anti-aging properties help to promote skin elasticity thus reducing wrinkles.
Cocoa Butter
Unrefined cocoa butter is an excellent moisturizer with anti-aging properties that hydrate the skin and help to heal from inside. This is due to its high amount of natural antioxidants, including Vitamin E.
I used unrefined cocoa butter which has a naturally rich cocoa scent. This is a great butter to use for dry skin!
Vitamin E Oil
This oil is rich in antioxidants that inhibit free radicals that cause aging. Thus, Vitamin E oil helps to reduce the appearance of wrinkles. It also soothes and heals dry skin, making your skin look youthful.
Vitamin E oil in this recipe was chosen mainly because of its ability to produce a longer shelf life. No one wants their product turning rancid before it is used up.
Grapeseed Oil
Grapeseed oil is a stable lipid which is known for its virtually odorless aroma.
It is a highly penetrating and emollient oil that is rich in both Omega-6 and Omega-9 fatty acids. It can improve one's skin tone and texture as it is slightly astringent.
It is an oil that can be used on all skin types even the sensitive, dry and oily skin types without leaving a greasy feeling.
Grapeseed oil is known as an oil that does not clog pores or cause skin breakouts, making it great for those with acne problems!
Jojoba Oil (alternate ingredient)
Almost odorless, jojoba oil is really considered a wax. Chemically it resembles human sebum.
It is cold-pressed from seeds (also known as beans). It is an antioxidant and thus does not go rancid. It is useful for extending the shelf life of other oils used in a product.
For its skin known qualities, Jojoba oil helps balance both oily and dry skin types. It also is known to help relieve itching and irritation.
Cocoa Powder
Whether taken internally or used externally cocoa powder is high in a lot of skin nourishing nutrients. These include magnesium, zinc, iron, calcium, beta-carotene and omega 6 fatty acids.
These nutrients can protect the skin against many environmental stressors. They can also help to increase the elasticity of your skin. This can lead to a healthy glow and decrease the look of fine lines, wrinkles and scars. (No wonder I like chocolate!)
Sweet Orange Essential Oil
Sweet orange essential oil is known as a soothing oil. It is calming and very useful for helping to relieve tension or anxiety. It gives a positive and cheerful note to this recipe.
It also has anti-inflammatory, astringent and antiseptic qualities which can help to tone the skin.
Vanilla Oleoresin
Although not technically an essential oil, vanilla oleoresin is similar in use and consistency. The true vanilla scent shines through in a well made product.
Known for being an uplifting, mood elevating oil, vanilla oleoresin is a perfect match with the cocoa butter and sweet orange essential oil.
Safety Information When Using Essential Oils
Always, do a skin patch test prior to topically using an essential oil you have never used before! See my sections on essential oil safety: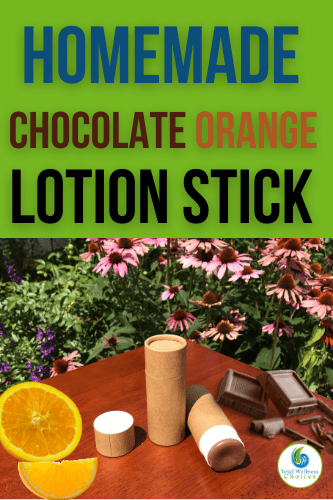 Ingredients
Directions
Mix grapeseed, or jojoba, oil and cocoa powder together until well mixed and set aside.
Melt beeswax and unrefined cocoa butter in double boiler over low heat. I like using a stainless steel double boiler pot, which I place overtop of a medium sized pot filled with 1 to 2 inches of water. Once the water is warm I add the beeswax and let it get almost totally melted.
Add the shea butter next into the almost melted beeswax mix and continue melting gently over very low heat. Heat until almost completely melted.
Add the oil and cocoa powder mix (and arrowroot powder if using). Stir continuously until all is melted and incorporated together.
Remove from heat source and add vitamin E, and essential oils (if using) and stir well.
Slowly pour the mixture into your containers, being careful not to splash the hot liquid on yourself.
Let your lotion stick cool and completely solidify.
Once it has cooled and solidified, your homemade chocolate orange body lotion stick is ready to use! Use as you would for any moisturizer. Rub on those dry areas, such as; elbows, hands, feet, décolletage, or neck. (Note: not recommended for the face).
Related: DIY Solid Lotion Bar Recipe with Lavender and Chamomile and
DIY Calendula Lotion Bar Recipe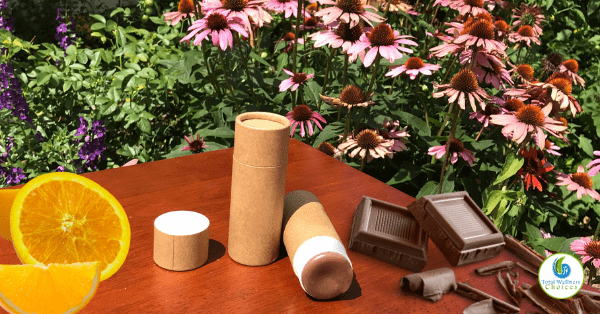 These statements have not been evaluated by the Food and Drug Administration. This article is for educational and informational purposes only and does not intend to diagnose or treat any disease. It is always recommended that you seek the advise of your private medical doctor.