This post may contain affiliate links. I may be compensated if you make a purchase through a link on this page.
DIY Tension Relieving Bath Salts Recipe with Himalayan Salt and Essential Oils!

Feeling your body is tight, or you are one buddle of nerves, from being stressed or overwhelmed or overworked?? You will find this DIY tension relieving bath salts recipe very helpful.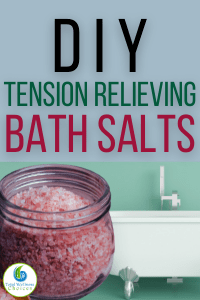 Okay, I'm just going to say it. Life can be stressful at times. If you say no, then I think you must live in a bubble?
So if you aren't feeling overwhelmed, or stressed at times, then just close this article – look no further – it's not for you!
But come on, let's be real, we are not "Superman" or "Wonder Woman" and life does stress us out from too many obligations and responsibilities; perhaps at work, or even at home!.
It may be your boss who expects more and more from you, or your team mates who don't do their share on that project.
Perhaps you've been stressed out at work only to come home to crying children. Before you can get your feet up in that lazy chair you are being told you have to watch the kids as your beloved needs a break????
Alright, alright – relax – relax! This article is about relaxing, not getting you riled up!
With all that running about we tend to lose focus on our own personal mental and physical self.
So I am saying take a breath, run a bath, light a candle, dim the lights and enjoy this amazing DIY tension relieving bath salts recipe with Himalayan salts and some great stress relieving essential oils.
Why I Love this DIY Tension Relieving Bath Salts Recipe
Like I have said before Himalayan Pink Salts are fantastic natural detoxifiers. They promote better skin hydration, along with having the ability to control the levels of water within your body and regulate the pressure in your blood vessels.
The first essential oil I used in this recipe, Lavender, has outstanding sedative and healing effects. Lavender is one of the most studied of all essential oils.
Many studies have been done on its main components linalool and linalyl acetate. These main components have been shown to have sedative and anxiety reducing properties.
Next I decided to use Sweet Marjoram essential oil. Sweet Marjoram was chosen because of its warming nature which provides a calming, more comforting sensation. I find it is perfect for my stress and tension relieving blend.
The third essential oil I have chosen is Neroli. D-limonene, which is one of Neroli's components, has been shown to have anxiety-relieving benefits. Thus Neroli is well thought of for its uplifting effect.
It also contains linalool and linalyl acetate which have sedative and anxiety reducing properties.
Neroli is one essential oil that a small amount can help, but too much might make you feel worse – it can give you a headache! Thus only one drop in your bathtub at a time is recommended! (this recipe is for two soaks!)
Then lastly, Ylang Ylang essential oil was chosen for its sedative quality. The aroma alone is enough to send me off to dream land when I can't sleep!
Studies have shown that Ylang Ylang can reduce one's heart rate and blood pressure. It also was shown to give relaxation and calmness to one when applied topically.
This is another essential oil where one needs to take care when using in the bath. A small amount can work wonders, but again too much can cause headaches.
NOW Foods Lavender Essential Oil 100% Pure, 2 ounce
NOW 100% Pure Ylang Ylang Essential Oil,1-Ounce
Using some Jojoba oil is important to dilute the essential oils and help it mix with water safely, as well as, help aid absorption into the salt crystals for better results.
Jojoba is actually a liquid wax that is cold=pressed from the seeds of the jojoba bush. It closely resembles our skin's natural sebum. Thus it is highly penetrating and very moisturizing. I also like the fact that there is very little aroma to Jojoba wax (oil).
It is an antioxidant. The best part about Jojoba wax is that it does not go rancid, and it also can extend the shelf life of other oils.
Remember, whenever you add oil to the bath IT CAN MAKE THE BATHTUB SLIPPERY! Always be careful getting into and out of the tub, and CLEAN THE TUB WELL AFTERWARDS so the next family member, or yourself, does not fall and get injured!
Now it is time to make the recipe. And since you will be making a batch of tension relieving bath salts for yourself, you might as well triple the recipe and use the extra as gifts!
But I suggest waiting till after you have had a chance to sneak away and enjoy a long soak with your own tension relieving bath salts.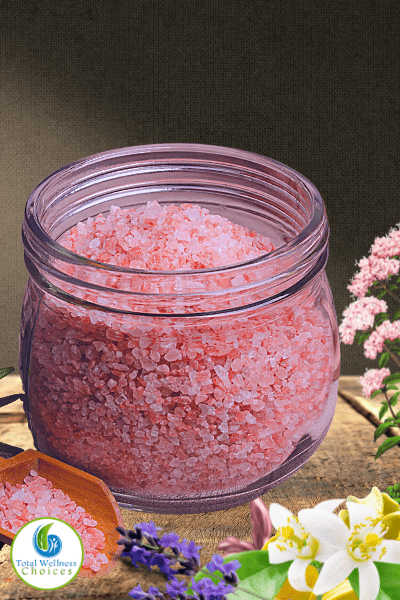 DIY Tension Relieving Bath Salts Recipe
What You Need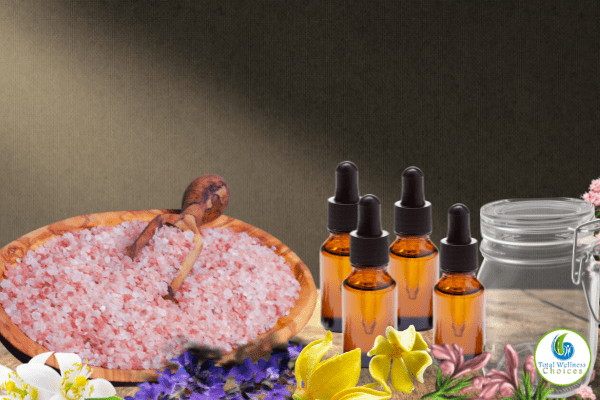 Benefits of Ingredients
Himalayan pink salts are natural detoxifiers, skin hydrator, and control the levels of water within your body and regulate the pressure in your blood vessels.
Jojoba wax (oil) is a great carrier oil that will help the essential oils absorb into the salts, plus it is an amazing skin moisturizer
Lavender, Sweet Marjoram, Neroli, and Ylang Ylang essential oils are all calming type oils that provide natural sedative and relaxant qualities together
Directions – How to Make Homemade Bath Salts

Add Himalayan pink salts to a mixing bowl.
Add in the diluted essential oils and stir well till the oils are combined with the salts.
Pour bath salts into a clean container and place lid.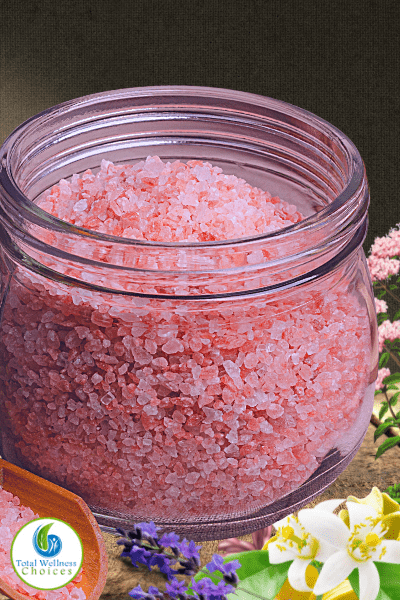 How to Use
Run a warm bath and add 1/2 cup of the bath salts
Soak for 20-30 minutes in the tub.
Lightly rinse off with cool water.
Slowly get out of the tub and use caution, especially if you are feeling light-headed or tired. Plus, it can be slippery.
Gently pat yourself dry, avoid rubbing your skin too hard. Allow the essential oils to linger on your skin.
Rest for 30-45 minutes after the bath and hydrate yourself by drinking 8-12 oz of water.
DON'T FORGET TO CLEAN THE TUB to remove any remaining oil.
Materials
Tools
Instructions
1. Add Himalayan pink salts to a mixing bowl.

2. Mix Jojoba oil and essential oils together in separate bowl.

2. Add the diluted essential oils to the salt.

3. Stir well. Spoon into a jar or other container.
Notes
To use, add ½ cup of tension relieving bath salts recipe to warm bath water and soak for 20 to 30 minutes.
Safety First When Using Essential Oils
If you have never used a certain essential oil it is important to do a skin patch test prior to topically using! See my sections on topical use and other essential oil safety concerns:
Related Read: DIY Sugar Scrub with Clove and Cinnamon Essential Oils
DIY Bath Salts Recipe with Himalayan Salt
DIY Bath Salts Recipe without Epsom Salt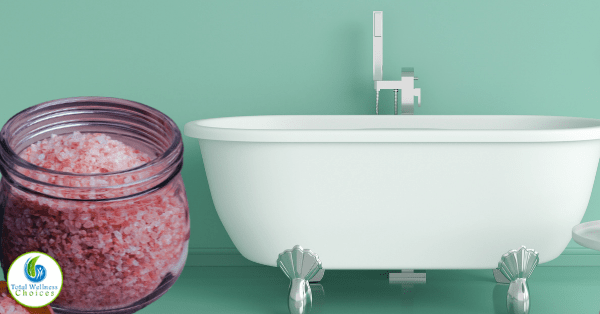 These statements have not been evaluated by the Food and Drug Administration. This article is for educational and informational purposes only and does not intend to diagnose, treat, cure, or prevent any disease or health condition. It is always recommended that you seek the advise of your private medical doctor.