This post may contain affiliate links. I may be compensated if you make a purchase through a link on this page.
DIY Dad's Gardening Hand Salve Recipe – to help heal, moisturize and nourish dry, rough, cracked hands!
This hand salve has carefully chosen base oils and essential oils to help with dry, cracked hands!
If dad, or that special someone, is into gardening, working on their car or motorcycle, or has a job that requires washing their hands frequently then this is the perfect hand salve for them!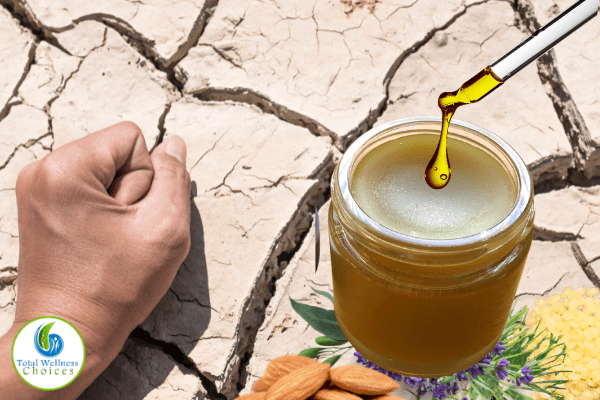 When the weather warms up my husband suddenly becomes a plantsman.
His life starts to revolve around his flowers, bushes, trees, and some vegetable plants. He is outside, rain or shine, tending to his plants.
This year he has been having a war with a plant eating insect. It appears when the sun goes down. Out comes his bug fighting castile soap spray and out the door he goes.
I see him hunched over his delicate baby plants, flashlight in hand, inspecting for insects and spraying away.
The next morning he either happily announces the survival of his plants, or sadly informs me of their demise. Do you think this has deterred my husband from gardening? No way!
Next day it is off to the local nursery he goes. Back he comes with more baby plants, or a new one that he thinks might be more resistant to that plant eating insect!
Out comes the dead, or dying plants, and in goes the newly bought plants. He is up to his elbows sometimes in soil.
My man has no qualms about what may be in the soil. Worms are lovingly placed back in another area to keep the soil aeriated.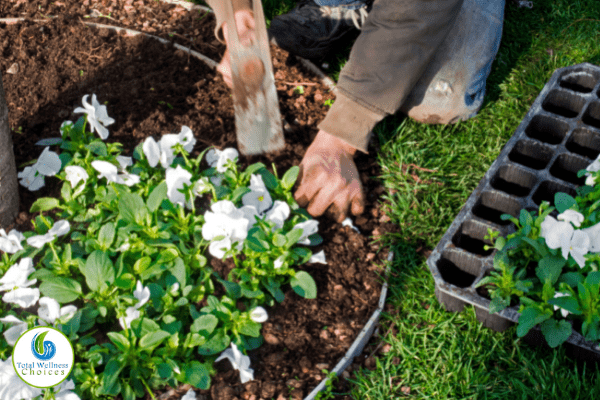 Imagine, if you will, his hands after digging around in soil – removing the dead plants and planting new ones and then having to wash them constantly! Dry, cracked, rough.
This year I decided enough was enough. Time to make something for him. A salve to help his dry and cracked looking hands.
What a lifesaver this homemade salve has become. It helps keep his hands nourished and moisturized. It helps to quickly heal the cracked areas around the tips of his fingers.
Since this hand salve is made with all natural, non-toxic ingredients he doesn't have to worry about harmful chemicals and additives!
My husband even likes the smell and color – very earthy he says. Herbal smelling. (It definitely is not a sweet, flowery smell!) The color is green which comes from the tamanu oil.
Dad's Gardening Hand Salve Ingredients
Beeswax
Beeswax is a great ingredient for many reasons. One I find very important is that unlike most other emollients such as mineral oil, beeswax does not clog your pores.
It contains anti-inflammatory, antiviral, and antibacterial properties, which helps to repair damaged skin.
Beeswax also creates a protective coating on the skin that is almost like wearing gloves. By doing so, it helps protect your hands from the elements even as it holds moisture in and prevents dryness.
Tamanu Oil
Tamanu oil is a natural antioxidant with antimicrobial properties It is not as common as other oils, but very beneficial.
Tamanu oil is also known for it's skin rejuvenating properties. It is able to generate healthy and clear looking skin. It is also used to help fade the appearance of scars.
The best part is its ability to penetrate all three layers of the skin. Thus it is great to use for it's moisturizing capability.
(If you can't find, or use tamanu oil I would suggest substituting it with jojoba oil.)
Sweet Almond Oil
This is a mild hypoallergenic oil that is easily absorbed into the skin.
Sweet almond oil is great for sensitive skin, an amazing moisturizer and helps protect your skin from the damage caused by UV rays of the sun.
Sweet almond oil also won't clog your pores. It is used to help with irritation, itchiness and redness caused by eczema and psoriasis skin conditions.
Vitamin E
Vitamin E oil is rich in antioxidants that inhibit free radicals that cause aging. Thus it helps to reduce the appearance of wrinkles, age spots scars, etc.
Vitamin E is also readily absorbed. This means it can nourish your skin from the inside out.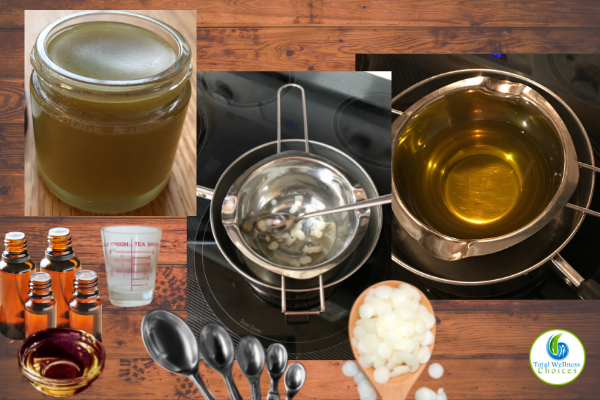 Scots Pine Essential Oil
Scots pine essential oil is helpful for relieving sore muscles and joints and for muscle spasms.
It has a high chemical component amounts of monoterpenes, especially α-pinene (Alpha-pinene) and β-pinene (Beta-pinene).
Some monoterpene rich essential oils are good for their pain relieving (analgesic) ability and antiseptic effect. Scots pine essential oil is one.
Due to the Alpha-pinene, Scot pine essential oil also offers an antibacterial and antiviral effect.
Eucalyptus Radiata Essential Oil
Eucalyptus radiata essential oil is different from other eucalyptus species because of its "a-terpineol" content.
Benefits of a-terpineol include anti-oxidative and increased skin penetration properties.
It is often used in skin preparations to relieve sore, aching muscles and joints.
Eucalyptus radiata is also a great germ fighter. It is an essential oil to use to in cleaning formulas.
Please use caution if taking any drugs metabolized by the CYP2D6 enzyme, or if asthmatic. Also not recommended for children under the age of 10!
Lavender Essential Oil
I like adding lavender essential oil to my Dad's Gardening Hand Salve Recipe because it helps to heal damaged skin.
Lavender oil also soothes skin irritation and inflammation.
Helichrysum italicum Essential Oil
Great for the skin, Helichrysum italicum is one of the best essential oils for cuts, wounds, bruises and scrapes. It promotes healing, repairs damaged skin and reduces scarring.
It does such a great job of healing wounds quickly that it is not recommended for deep cuts. This is because more time is needed to heal from the inside out!
These ingredients in this diy hand salve work together effectively in healing dry, rough and cracked skin.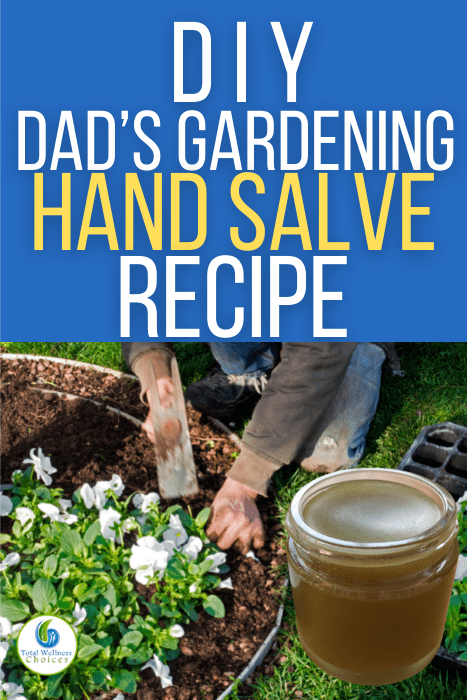 Dad's Gardening Hand Salve Recipe
What you'll need:
Microwave Instructions
Melt the beeswax in a glass bowl in microwave
When melted, remove and add the tamanu oil (or jojoba oil), sweet almond oil, and vitamin E oil.
Stir until well combined. (It may appear to re-solidify at this stage – if needed reheat for 10 seconds in microwave. Stir well until it becomes liquid form again.)
Add the essential oils. Stir until well mixed.
While your mixture is still liquid, carefully pour into clean containers.
Let cool completely before adding the lid.
Be sure and label. It is now ready to use!
Double boiler Directions
Melt beeswax in a double boiler (lower saucepan filled 2 to 3 inches with water) over low heat on the stove.
Add the tamanu oil (or jojoba oil), sweet almond oil, and vitamin E oil to the melted beeswax
Stir until well combined. (It may appear to re-solidify at this stage – just keep stirring over low heat until it becomes liquid form again.)
Remove from heat source and add the essential oils. Stir until well mixed.
Slowly pour the mixture into clean containers being careful not to splash the hot liquid on yourself.
Let cool completely before adding the lid.
Be sure and label. It is now ready to use!
This makes a little more than two ounces of hand salve. I used a couple of one ounce glass containers.
If you use the one ounce aluminum tin containers – use three and don't fill all the way to the top.
Once it has cooled, DIY Dad's Gardening Hand Salve Recipe is ready to use! Use when needed to soften, moisturize and heal dry, cracked, rough hands.
Your dad's (or that someone special) hands will start looking and feeling better in no time. Just remember to keep it handy, especially in the gardening months!
Safety First When Using Essential Oils
It is important to do a skin patch test prior to using this hand salve to make sure there is no skin sensitivity prior to using!
See my sections on topical use and other essential oil safety concerns:
Are you battling with dry cracked heels? You may want to read Homemade Dry Cracked Heels Remedy (Salve)
Related Recipe: DIY Hand Salve Recipe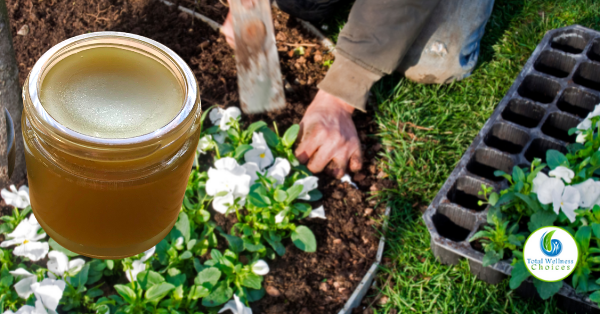 These statements have not been evaluated by the Food and Drug Administration. This article is for educational and informational purposes only and does not intend to diagnose or treat any disease. It is always recommended that you seek the advise of your private medical doctor.