This post may contain affiliate links. I may be compensated if you make a purchase through a link on this page.
DIY Tight Muscle Relief Massage Oil Recipe
For tight shoulders and neck muscles here is an easy DIY massage oil blend that will soothe those achy muscles. It uses a few "cooling" essential oils and pain relieving St. John's wort infused oil. A perfect massage oil blend to use after a day at your home office!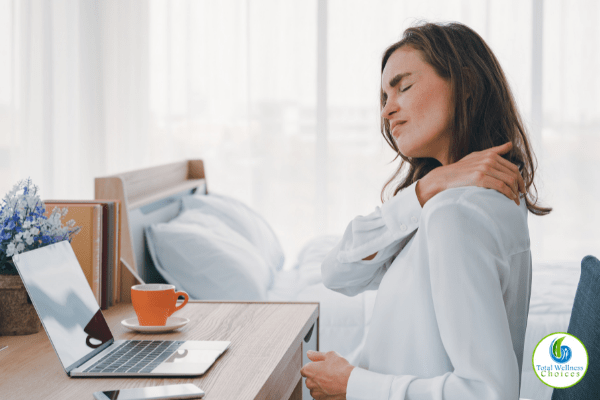 Tension in the neck and shoulder area is common for people who work extended hours hunched over their computers.
During the COVID-19 crisis many workers were sent home. Instead of going to the office where they interacted with others, got up, moved around, went to meeting, etc. they now had to do everything in front of a computer screen.
Responsible businesses sent emails showing correct ergonomic positions, and how to keep from becoming "frozen" in one position at work. Other businesses left it's workers to sort this out on their own (or not!).
The not so ideal conditions for many has taken it's toll on the body. The tightness, the tension, is especially felt in the shoulder, and neck area.
What to do?? There is a lot of prescription and over the counter pain killers that are available… Right!
Oh yeah, but, especially the muscle relaxant and narcotic type pills have adverse side effects.
They can make you so drowsy you sleep for hours, or have confusion, or even hallucinate when taking them. Not great if you are expected to be alert at your job!!
There are alternatives that can help. Massaging those tense, tight muscles is one alternative that I prefer over popping a pill.
Essential Oils for Muscle Tightness Relief
Thankfully there are essential oils for virtually every health issue, including muscle pain and tightness.
For tense, tight muscles I find the essential oils with "cooling" attributes work the best.
Catnip Essential Oil
It is hard to believe but catnip isn't just for cats! Traditionally it has been used for easing pain and tension in humans. It was used in pain relieving remedies years before it was studied by the science community.
Catnip contains neptalactones. It is these natural chemical components that make it so effective in soothing aching muscles.
It is the main "star" in this recipe.
Eucalyptus Globulus Essential Oil
Eucalyptus contains 1,8-cineole which has been shown to have antispasmodic effects on tissues.
Plant Therapy USDA Certified Organic Eucalyptus Essential Oil. 100% Pure, Undiluted, Therapeutic Grade. 10 mL (1/3 Ounce).
It has strong anti-inflammatory and analgesic effects that can produce quick relief from pain.
Rosemary Essential Oil
Rosemary oil contains rosmarinic acid which has anti-inflammatory and anesthetic effects and help in reducing pain.
Depending on it's chemotype ct. 1,8-cineole, or ct. camphor Rosemary has been shown to be useful in increasing circulation (ct. camphor type best), or in respiratory issues where it is used for its expectorant and anti-inflammatory response (ct. 1,8-cineole best).
The 1,8-cineole component has been shown to be helpful for sore, tight muscles as it is warming and increases the blood flow.
Rosemary traditionally has been used in alternative medicine for it's anti-spasmodic effects.
Note: Both the ct. 1,8-cineole or ct. camphor chemotypes can be used in this recipe, but some find the camphor type more irritating to the skin. So take caution when using.
Most companies don't label the chemotype, but Plant Therapy is one company that does label it. (This is one reason I like using this company!)
Peppermint Essential Oil
Peppermint has menthol which creates an "ice-hot" cooling sensation that helps to reduce inflammation.
This cooling effect also improves circulation thereby making it helpful for soothing sore, tense muscles and relieving pains.
Organic Peppermint Essential Oil. 10 ml. 100% Pure
To create the cooling and numbing sensation you want to use low concentrations of peppermint essential oil.
If a too high of concentration of peppermint essential oil is used you may feel warmth, burning, and even painful sensations!
If you find peppermint essential oil doesn't work for you, a gentler, lower menthol concentration, mint-type essential oil to use would be bergamot mint.
St. John's Wort Oil
St. John's wort infused oil is a great carrier oil to use for muscle pain. It is made from the St. John's wort herb.
John's wort flowers are bright yellow with numerous five petal clusters at ends of the branches.
Topically St. John's wort has been used for the treatment of minor wounds and burns, sunburns, abrasions, bruises, contusions, ulcers, muscle pain, and many other skin conditions.
Note: St. John's wort is known to make the skin overly sensitive to sunlight when used topically. It is best not be exposed to sunlight after applying this oil base.
If you must go out in the daylight use skin protection including: long sleeves, a hat, sunglasses, and use a sunscreen with at least SPF of 15 or higher.
Because this massage oil contains St. John's wort it is recommended only for those ages 12 and above!
If you have an allergy or are unable to use St. John's wort oil you can still make this recipe! I recommend that you substitute St. John's wort infused oil with jojoba oil, fractionated coconut oil, or extra virgin olive oil.
Safety When Using Essential Oils
Always, do a skin patch test prior to topically using an essential oil, or herb-infused oil you have never used before! See my sections on essential oil safety: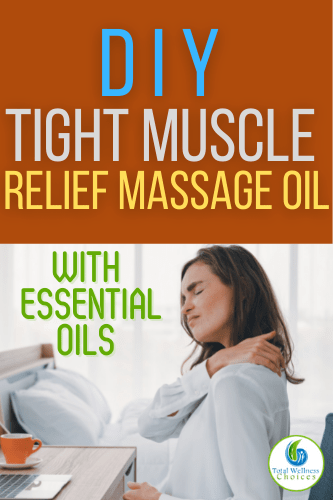 Here is a recipe that uses some of these "cooling" essential oils to help release those tight, tense muscles in a single massage oil blend.
This blend creates a comforting and cooling sensation. It also helps circulation and can relax and improve movement in muscles.
Tight Muscle Relief Massage Oil Recipe
Directions
Pour the St. John's wort Oil into a glass bottle and add the essential oils. Let sit for an hour. Shake and use to massage the affected area.
This massage oil is not recommended for all over the body massage. Use in localized, affected area only!
Remember, also listen to your body! A fixed sitting position for hours on end is not healthy. If you are having pain in your back, neck, and/or shoulders maybe it is time to pay attention!
Take time out to stretch, to move, and to ensure your office area is ergonomically arranged.
Now, go ahead and give this DIY Tight Muscle Relief Massage Oil Recipe a try and tell us how it goes.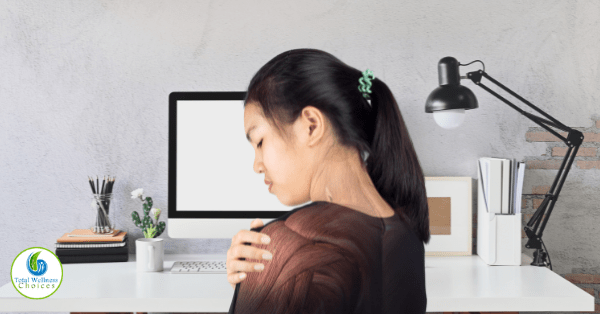 These statements have not been evaluated by the Food and Drug Administration. This article is for educational and informational purposes only and does not intend to diagnose or treat any disease. It is always recommended that you seek the advise of your private medical doctor.