This post may contain affiliate links. I may be compensated if you make a purchase through a link on this page.
Homemade Vapor Rub with All Natural Ingredients

This homemade vapor rub is so simple and easy to make that virtually anyone can successfully make it.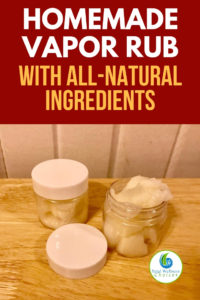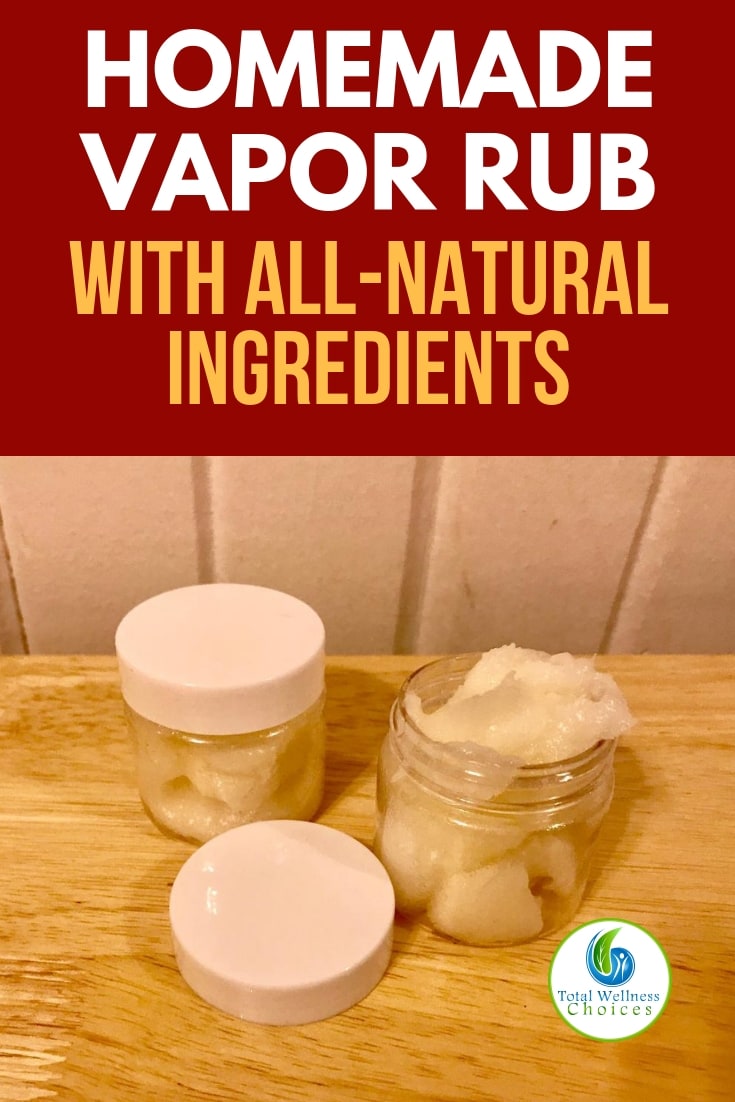 As Fall approaches, the days become shorter, there is a crispness in the air, and the common colds begin.
We know that it happens every year, the congestion sets in, our chest feels tight and our nasal cavities are clogged for days signifying that it is time to start the vapor rub.
Vapor rub, yes we all have our own childhood memories of our mothers pulling out the little blue jar of rub every time she heard a sniffle out of us.
But those store-bought vapor rubs usually contain petrolatum. And as a natural health advocate, I always prefer products made with all natural ingredients.
Thankfully I can make my own all-natural vapor rub. And YOU can too because it is so easy to make.
When I tell you that something is easy to make, that means it REALLY is. To be honest I really suck at DIYs, so SIMPLE and EASY does it for me.
Why Homemade Vapor Rub with Natural Ingredients?
Homemade vapor rubs made with natural ingredients are fabulous for people who prefer to use only natural and organic products on their skin, with the bonus of the natural healing agents that essential oils contain.
This diy chest rub is also generally safer to use for those who are using oxygen for respiratory problems. It does not interfere with oxygen use the way that products that contain petroleum by-products do. However, some people have allergies to different essential oils, or even the carrier oils. To be safe always use caution if you have respiratory problems.
And even though this vapor rub is homemade, the smell still evokes those memories of my mother gently rubbing the vapor rub on my chest and back to help break up the congestion.
When preparing the vapor rub, I like to start with the carrier oil. In this recipe, I will use solid coconut oil.
The solid coconut oil will help with the consistency needed for a vapor rub. For my healing agents, I will use tea tree, peppermint, eucalyptus and lemon essential oils.
These essential oils work together to make in synergy to help clear up chest congestion. Essential oils are one of the best natural remedies available today and there is an EO for virtually everything.
Homemade Vapor Rub Recipe – DIY Chest Rub

Ingredients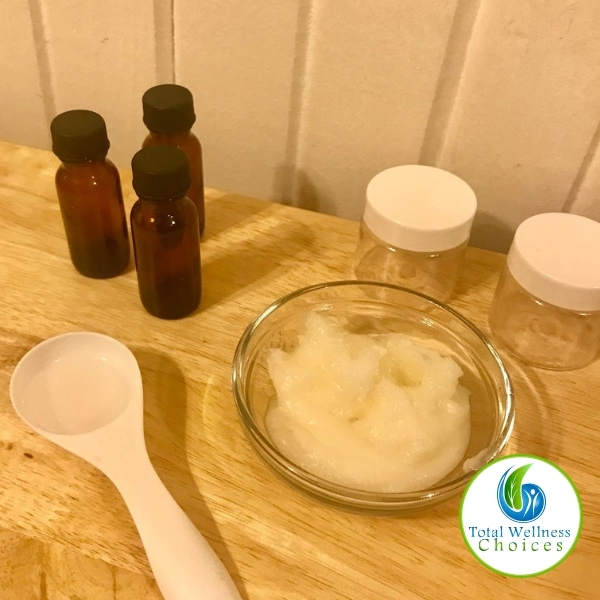 Benefits of the Ingredients
Coconut Oil – This is a wonderful moisturizer for your skin and will help with itching and flaking associated with dry, cool weather.
Tea Tree Essential Oil – An antimicrobial agent, tea tree oil makes an excellent addition to this rub if the chest congestion is caused by a pathogen (infection). Plus, it is helpful for a longer shelf life.
Peppermint Essential Oil – It is antibacterial, analgesic (it soothes pain) and anti-inflammatory. It's also cooling and refreshing thanks to its menthol content. Don't use if you have a fibrillation of the heart, or a G6PD deficiency. (This essential oil is not recommended under age five – it can be neurotoxic if used or applied near a young child's face!)
Eucalyptus Essential Oil – An antimicrobial and an excellent expectorant, making it a good oil to use for respiratory issues. Take care when using if you have asthma – check with your doctor first! (Not recommended under age 10. Cedarwood is a great replacement when substituting eucalyptus essential oil in recipes for children!)
Lemon Essential Oil – This isn't just useful for household cleaners. It is also a great oil for slowing wheezing and cough due to its ability to stimulate lymphatic drainage and fight bacteria and fungi.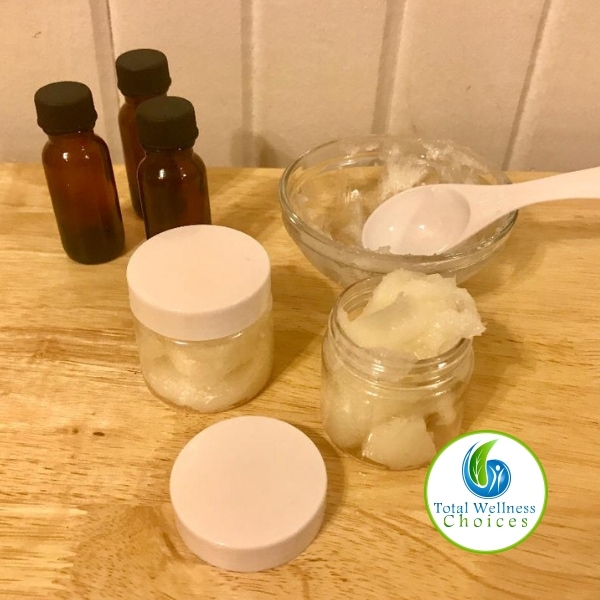 Instructions
Put the coconut oil in a glass bowl and whisk until smooth (if your coconut oil is hard, you can use a mixer instead of a whisk).
Add in the essential oils and mix well with a spoon.
Next, spoon out the mixture into a container.
Store in a cool, dark space for longer shelf life, or in the fridge if you prefer a cooling effect on your skin.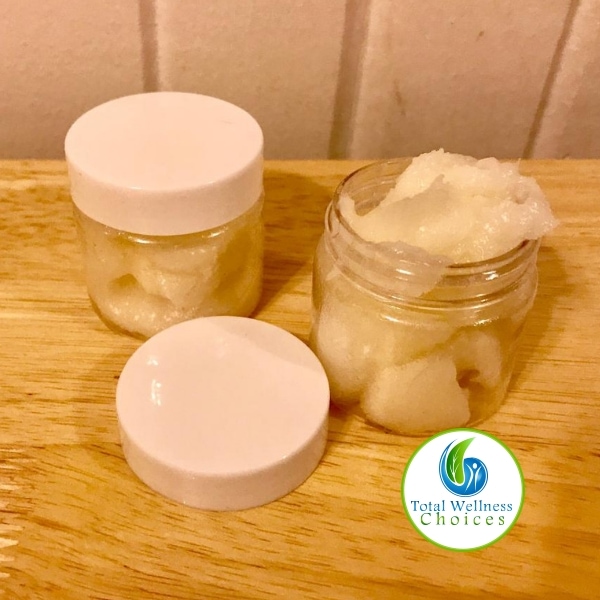 How to Use the Natural Homemade Vapor Rub

This rub seeps in slowly, with a very mild tingling feeling. Just apply a small amount to the chest when you are congested or have a cough. You can also apply the rub on your upper and middle back and under your nose. Apply every couple of hours or as needed.
This recipe is for those ten years of age and older.
If you want to make a vapor rub for children between 5 and 10 years of age I recommend leaving out the peppermint and eucalyptus essential oils.
You can replace with a couple (or even three) of the following: cedarwood (Juniperus virginiana), lavender (Lavandula angustifolia), juniper berry (Juniperus communis), fir needle (Abies sibirica), frankincense (Boswellia carterii), spruce (Tsuga canadensis), sweet orange (Citrus sinensis), or sweet marjoram (Origanum marjorana).
I would stay with a 1% dilution. (That would be 20 to 24 drops total per recipe). Because tea tree has a fairly strong scent that some don't like you can either keep the drops low (between 2 – 4), or also substitute it for another one you prefer in my list above.
Safety First When Using Essential Oils
If you have never used a certain essential oil it is important to do a skin patch test prior to topically using! See my sections on topical use and other essential oil safety concerns:
Now that you know how to make all-natural homemade vapor rub with essential oils, give it a try. Come back and let us know how it goes using the comment form below.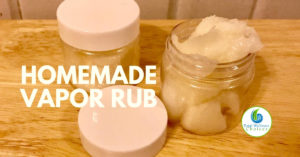 These statements have not been evaluated by the Food and Drug Administration. This article is for educational and informational purposes only and does not intend to diagnose, treat, cure, or prevent any disease or health condition. It is always recommended that you seek the advise of your private medical doctor.