This post may contain affiliate links. I may be compensated if you make a purchase through a link on this page.
Best Essential Oils for Colds and Flu that Fight Infections and the Germs that Cause them!

Here are the best essential oils for colds and flu to help you fight the flu naturally and Safely.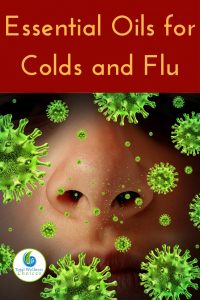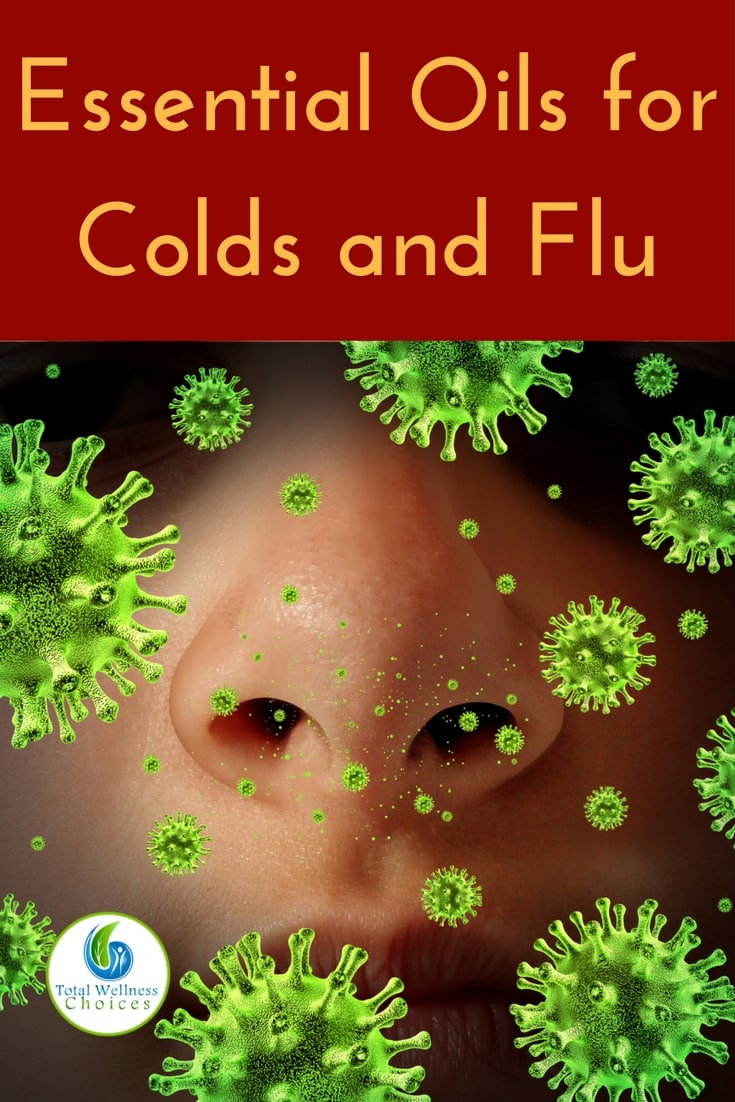 The flu epidemic of 2019 to 2020 was pretty scary! Then along came the COVID-19 epidemic with a virus that was worse than any recent flu epidemics. Despite COVID-19 we are still vulnerable when it comes to getting the flu this year. Knowing the best essential oils for colds and flu can be very helpful.
The Center for Disease Control and Prevention (CDC) reports that the flu "places a substantial burden on the health of people in the United States."
Colds and flu can be deadly and should always be taken seriously. In fact, according to CDC, about "12,000 to 56,000" individuals die annually since 2010 because of the flu. Being exposed to COVID-19 does not make one immune to getting the flu.
So, what can you do to boost your immune system to fight against colds and flu?
Although there are conventional pharma medicines for colds and flu, they also come with nasty side effects.
This is why I always prefer natural alternatives. And essential oils are one of the best natural remedies for colds and flu.
So, here are the 6 best essential oils for colds and flu available to use.
#1. Eucalyptus
Eucaplytus EO has fresh and sharp aroma that penetrates your senses. It also supports the respiratory system. When inhaled, it helps to clear up mucus and promotes healthy breathing. Not only does eucalyptus calm inflammation in the respiratory system, but it also reduces inflammation in other parts of your body. By so doing, it helps to soothe the aches and pains associated with colds and flu.
#2. Fennel (Sweet)
Plant Therapy Fennel (sweet) Essential Oil. 100% Pure, Undiluted, Therapeutic Grade. 10 ml (1/3 oz).
Fennel, Foeniculum Vulgare, is the medicinal herb from which sweet fennel essential oil is extracted. The oil is derived from the crushed seeds through the process of steam distillation.
Fennel essential oil has a spicy-sweet aroma and is reputed for its cleansing and cooling properties.
It has expectorant effect that helps to loosen thick mucus in the respiratory passage.
This is why it's ideal for fighting against colds and flu symptoms. Little wonder it is used in cough drops in many pharmaceutical products.
To use fennel EO against that annoying cold or flu, combine a few drops with carrier oil and use to rub on your chest.
You can also add a few drops to your diffuser and disperse or do steam inhalation.
#3. Helichrysum Oil

Helichrysum EO, the honeylike scented oil extracted from Helichrysum Angustifolium, is aboriginal to the Mediterranean region. The oil is also known as immortelle or 'everlasting' oil.
It was traditionally used to assuage respiratory problems including asthma, whooping cough, liver illnesses, bronchitis, and chronic coughs.
Today, the oil is still beneficial and is widely known as one of the best essential oils for colds and flu.
Helichrysum produces an antispasmodic effect that soothes coughing. It also clears up mucus and sinusitis. To use, add 3-4 drops of Helichrysum oil to a bowl of hot water and inhale the steam.
#4. Lemon EO

Another great essential oil for colds and flu, lemon contain properties that fight infections effectively. Inhaling, this essential oil helps to boost your immune system, thereby keeping infections at bay.
Diffuse lemon EO to help clear congestion and mucus in your respiratory track. The diffused oil also purifies the air by killing infection causing germs. You can also use lemon oil to make diy natural cleaning blend (a great disinfectant for your home).
#5. Manuka

Manuka (Leptospermum scoparium) sports beautiful and delicate pink flowers that appeal to bees and the human eyes.
The essential oil is obtained from the leaves and twigs of the plant through steam distillation. It's a powerful antihistamine that treats allergic reactions and colds. Manuka provides an antibacterial action and is an impressive cold and flu buster.
#6. Oregano Essential Oil for Colds and Flu

The common oregano, Origanum vulgare, is a reputable treatment used in China to beat jaundice, itchy skin, fever, and other ailments. Traditionally, the medicinal component of the oil is used to alleviate respiratory problems, colds, and flu. Oregano can be used in steam inhalation or your diffuser to provide relief against congestion.
#7. Tea Tree Oil

Plant Therapy USDA Certified Organic Tea Tree (Melaleuca) Essential Oil. 100% Pure, Undiluted, Therapeutic Grade. 10 ml (1/3 oz).
Tea tree essential oil contains potent antiseptic components. It's a dandy item to stack in your first-aid kit to treat wounds. Tea tree oil is helpful for fighting colds and flu symptoms.
Simply add a few drops of the oil to a bowl of hot water and inhale the steam!
This helps to remove congestion and open up the nasal passage, making breathing easier.
Tea tree oil is also a potent immuno-stimulant. Whenever your body is threatened by microorganisms (bacteria and viruses, this EO can help give your system the boost it needs to combat these foreign agents.
This mechanism of the oil makes it easier for your body to withstand, or fight against the flu.
Fun fact: Melaleuca alternifolia, the tree from which tea tree oil is extracted, was traditionally used to make herbal tea. You'll also find tea tree oil in gargles, toothpastes, and deodorants.
#8. Niaouli

Plant Therapy Niaouli Essential Oil. 100% Pure, Undiluted, Therapeutic Grade. 30 ml (1 oz).
Niaouli is mainly used as an astringent and disinfectant. That means it aids your body in fighting against infections, including nasty colds and flu.
In fact, Melaleuca viridiflora, M.quinquenervia, the tree from, which niaouli essential oil is extracted, is a close relative of tea tree. The components of both oils are similar in nature.
Niaouli is also, an expectorant and decongestant. It relieves congestion in the respiratory passage and may ameliorate issues such as sinusitis, bronchitis, and catarrhal.
To use niaouli to alleviate cold and flu, add 2 – 3 drops in a bowl of hot water. Drape a towel over your head with your face directly over the bowl; inhale the steam for a few minutes.
If that process seems like too much work, add the same amount of EO as above to your diffuser or vaporizer and allow it to permeate the air.
How to Use Essential Oils for Colds and Flu
Diffuser – Add a few drops to your diffuser and let is disperse. This works two ways – fights the infection in your body and kills the germs in the air.
Steam Inhalation – Add a few drops into a bowl of hot water drape a towel over your head as you lean toward the bowl of water. Inhale the steam for a couple of minutes
Balm – You can make a balm using the essential oils and Shea butter/coconut oil and bees wax. Use the balm to rub on your chest or soles of your feet.
Congestion Diffuser Blend Recipe
DIY Antibacterial Hand Wash – A Great Way to Use Essential Oils for Colds and Flu

The virus that causes the common cold and flu can be transmitted from one location to another. To prevent the virus from spreading, use oregano essential oil to make your very own antibacterial hand wash.
To make this wash, add 8-15 drops of oregano EO to 8 oz liquid soap (I use Castile soap). For better results, ensure to make this blend with unscented liquid soap.
Even though this is an antibacterial hand wash recipe, you can use the blend to clean or disinfect surfaces to kill germs.
Safety First When Using Essential Oils
Always dilute essential oils before applying to your skin. And be sure to consult with your doctor before using essential oils if you are pregnant or a nursing mother.
If you have never used a certain essential oil it is important to do a skin patch test prior to topically using! See my sections on topical use and other essential oil safety concerns: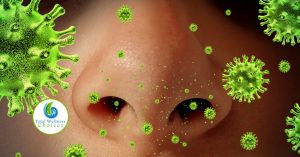 These statements have not been evaluated by the Food and Drug Administration. This article is for educational and informational purposes only and does not intend to diagnose, treat, cure, or prevent any disease or health condition. It is always recommended that you seek the advise of your private medical doctor.