This post may contain affiliate links. I may be compensated if you make a purchase through a link on this page.
Fight those Cold Sores with the Best Essential Oils for Fever Blisters!
Using essential oils for fever blisters is one of the best natural ways to fight those ugly and painful cold sores.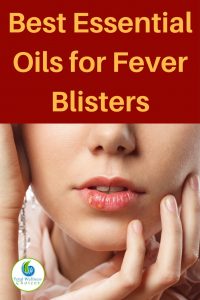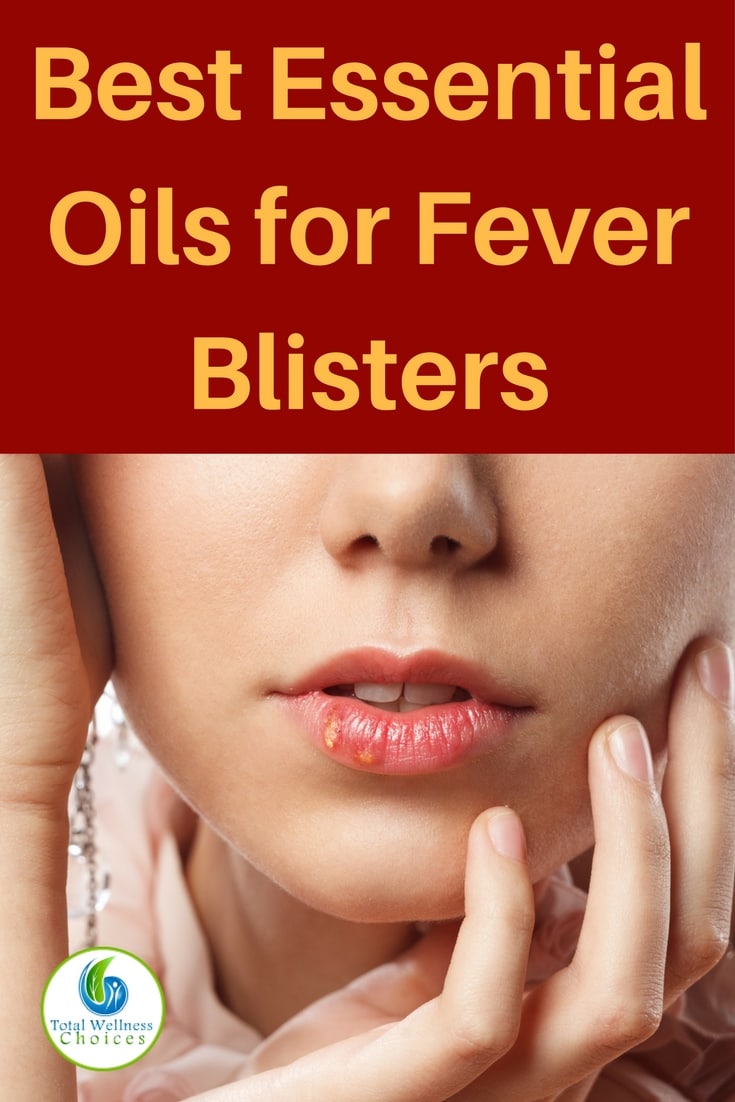 Fever blisters, also known as cold sores, are infectious blisters that are found on the face or lips. They are unsightly and quite painful.
While no one really wants to be associated with it, they are caused by Herpes Simplex Virus 1 (HSV).
It can lie dormant for years only flaring up when an individual gets stressed out.
Once a person is infected with the virus a large blister will eventually show up.
Of course, some people will develop these cold sores far more frequently than others.
This is especially true for people who are sick, exhausted, or exposed to intense temperatures from either side of the spectrum.
Using Essential Oils for Fever Blisters

Though HSV cannot be cured, it can at least be battled. The essential oils on this list have proven useful in fighting the intensity and longevity of those rotten skin eruptions.
Be sure to try some of the recipes associated with these essential oils the next time you find yourself dealing with a cold sore/fever blister.
Safety First When Using Essential Oils
If you have never used a certain essential oil it is important to do a skin patch test prior to topically using! See my sections on topical use and other essential oil safety concerns:
To help you benefit from the link between essential oils and cold sores, here are the 5 best essential oils for fever blisters you can try:
#1. Tea Tree Essential Oil for Cold Sores

Plant Therapy Organic Tea Tree Essential Oil. 100% Pure, Undiluted, Therapeutic Grade 1/3 oz.
Tea tree has microbial properties with intense strength.
It is often used to treat fungal, viral, and bacterial infections like herpes.
To utilize this remedy, put 1-2 drops of tea tree essential oil (diluted with carrier oil) on a cotton ball, tissue, or Q-tip.
Dab it on the sore several times daily until the blister disappears.
It's best if you start the treatment the moment you feel a cold sore coming on.
You know that tingling feeling that precipitates its arrival.
#2. Oregano Essential Oil
Oregano essential oil is very strong, even pests don't want anything to do with the plant. Its antimicrobial properties help reduce inflammation and aid in drying the blisters up during the healing process.
It kills the virus within the blister. Oregano oil can also be utilized via the cotton swab method, add a drop or two and apply directly to the sore, but don't press it.
Then be sure to dispose of the swab to ensure that further infection does not occur.
#3. Carrot Seed Essential Oil
Plant Therapy Carrot Seed Essential Oil. 100% Pure, Undiluted, Therapeutic Grade 1/3 oz.
Carrot seed oil is known for its antioxidant, antiseptic, antiviral, and disinfectant properties.
It's a very powerful oil utilized to treat infections and protect against the effects of those infections.
In the instance of a fever blister, it is particularly useful when added to a homemade lip balm as it can help fight the painful cracking experienced during the healing process.
This balm can be created with 1 ounce of beeswax, 2 tablespoons sweet almond oil, 10 drops jojoba oil and 5 drops of carrot seed oil.
Melt the beeswax, then add the other ingredients.
You can add additional essential oils as well: geranium, tea tree, lavender, lemon, and chamomile.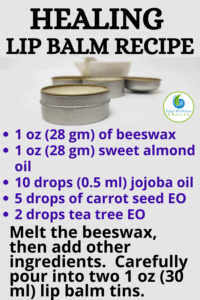 #4. Geranium Oil – A great Natural Remedy for Fever Blisters

Geranium oil is great for fighting the inflammation caused by cold sores.
Its antibacterial properties help protect against future infections and can stop the bacteria that can cause additional complications.
I suggest adding 2 drops of geranium oil (diluted with carrier oil) to the sore twice a day until the blister goes away.
#5. Peppermint Essential Oil for Cold Sores

NOW Peppermint Oil, 1-Ounce
Peppermint oil includes antiviral properties that work great against cold sores.
In fact, research has shown that peppermint oil can inhibit the development of additional fever blisters.
Obviously, the earlier you begin treatment, the more effective it is.
You can use it in a lip balm similar to the one suggested previously.
Or put a few drops (diluted in carrier oil) on a cotton ball or Q-tip and apply several times daily.
Making Your Own Blend – Essential Oil Recipe for Cold Sores

If you find that the individual oils are not working for you, creating this essential oil blend might prove advantageous and more effective.
Here is an essential oil recipe for cold sores you can try!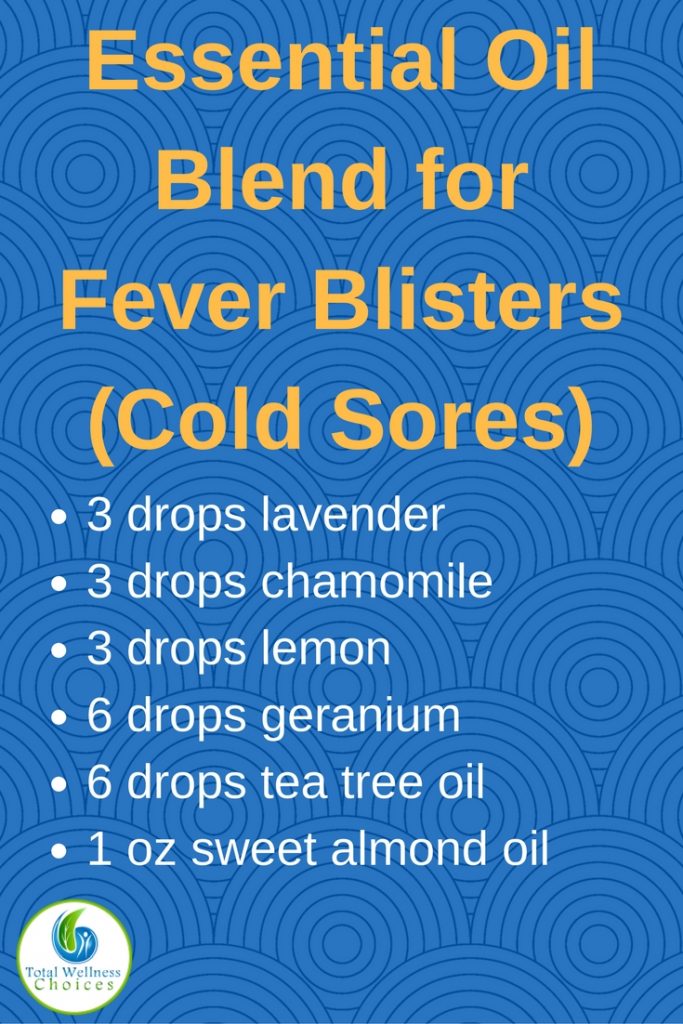 Ingredients
Direction
Add 3 drops each of lavender, chamomile, and lemon to 6 drops each of geranium and tea tree. Combine this concoction with 1 oz sweet almond oil.
You can then dip a Q-tip in the mix and apply it to the cold blister twice a day until you see the sore vanishes completely.
Getting rid of these unattractive and painful sores is surely a top priority. Hopefully the essential oils on this list, along with the recipes included, will aid you in that endeavor.
If you can think of other significantly beneficial essential oils for fever blisters, please don't hesitate to leave a comment below. I look forward to hearing your suggestions.
Meanwhile you can also read: 13 Home Remedies for Fever Blisters on the Lips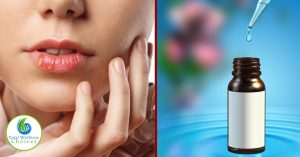 These statements have not been evaluated by the Food and Drug Administration. This article is for educational and informational purposes only and does not intend to diagnose or treat any disease. It is always recommended that you seek the advise of your private medical doctor.