This post may contain affiliate links. I may be compensated if you make a purchase through a link on this page.
Homemade Pumpkin Flaxseed Face Mask Recipe for All Skin Types!
This pumpkin flaxseed face mask recipe is great for most skin types. It is made with easily obtained ingredients. It is easy and inexpensive to make. And the best part I find is how it tightens, exfoliates, hydrates, and moisturizes for brighter looking skin.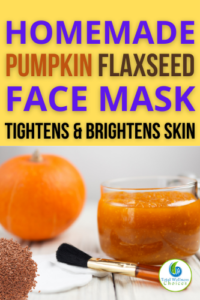 I like the first DIY pumpkin face mask recipe that is on my site. You can find it here. I like how it exfoliated and brightened my skin.
Because I changed the recipe and took out the egg it now is great for those who are allergic to eggs, and it can be adapted for vegans by replacing the honey with vegetable glycerin.
Taking out the egg and adding flaxseed has kept it's great skin tightening effect without the use of eggs. Plus I like how it softens the fine lines, thus reducing the appearance of wrinkles!
This pumpkin face mask recipe is an easy and inexpensive at-home enzyme treatment for your skin. It exfoliates naturally for brighter looking skin.
It's also packed with vitamins and minerals to nourish your skin while it hydrates. Pumpkin masks are my favorite face masks, and I use them all year, not just in the fall.

Related: Hydrating Sheet Mask DIY Recipe
Pumpkin Flaxseed Face Mask Recipe
With just a few common ingredients, you can make your own face mask with pumpkin puree. You control the ingredients, so you know that there are no preservatives or other questionable ingredients in this mask.

This pumpkin face mask recipe costs less than $2 per use, so it's considerably cheaper than buying a mask at the store.
Ingredients Used in this Pumpkin Flaxseed Face Mask Recipe
Pumpkin Puree
Pumpkin is a wonderful face mask ingredient for most skin types. It's easy to get, inexpensive, and it's packed with vitamins, minerals, and other compounds that your skin loves.

Pumpkin face mask benefits include hydration, moisturizing, and exfoliating.

Pumpkin naturally contains alpha hydroxy acids. These acids promote cellular turnover, so your skin will look smoother and brighter after using this mask.

The AHAs in pumpkin make this a mild chemical peel, and you can do it at home without the cost or redness of a professional peel.

Pumpkin also contains vitamins A and C to soothe your skin. Both of these vitamins help prevent the signs of aging and boost collagen production to lessen the appearance of fine lines.

It also has vitamin E, a powerful antioxidant to protect the skin from sun damage.

Pumpkin puree has small molecules, so they penetrate deeper into the skin. This helps get the vitamins and minerals from the mask deep into your skin for maximum benefit.

I recommend buying organic pumpkin puree since the pesticides could reach the inside of the pumpkin. Also, make sure you are buying pure pumpkin puree and not pumpkin pie filling.
Raw Honey
I used raw honey for this DIY pumpkin flaxseed face mask recipe because, raw honey is filtered, but it's not heated.

Heating destroys some of the natural nutrients in honey. Raw honey can also contain some bee pollen, which is high in antioxidants for your skin.

Honey naturally moisturizes your skin without making it oily. It's great for dry, normal, or oily skin, thus I like adding it to my masks since it works for most skin types.

Honey is naturally antibacterial. It can help kill the bacteria that can cause acne. With repeated use, applying honey topically can help reduce acne blemishes and clear out pores.

Like pumpkin, honey also naturally exfoliates. It has enzymes that remove the top layer of skin. It's not as powerful as pumpkin, but it does help remove dead skin cells for brighter looking skin.
Vegetable Glycerin (Honey Alternative)
I have included an option for vegans, or those who chose not to use honey. It is vegetable glycerin. Vegetable glycerin is used for cleansing, softening and moisturizing the skin, thus making it a good alternative.
Flaxseed
Flaxseeds have omega 3 fatty acids, antioxidants and phytochemicals. These are great for your skin and help with preventing premature aging.
It's the fatty acids in flaxseed that not only help to tighten your skin, but help tone and firm the skin.
The antioxidant properties help to soothe inflammation and reduce irritation. These same properties are also thought to tighten the skin, prevent sagging; as well as, soften fine lines and wrinkles.
Vitamin E Oil
I like adding vitamin E oil to my recipes, especially for faces. Vitamin E oil is rich in antioxidants that inhibit free radicals that cause aging, hence, it helps to reduce the appearance of wrinkles and makes your skin look youthful.
Essential Oils (Optional)
Frankincense
I used frankincense, geranium, and myrrh essential oils in this recipe because they have many benefits for the skin. I like using essential oils in my skin care recipes, but it is optional to add.

Frankincense is naturally skin healing and anti-inflammatory, so it's great in blends that are designed to protect the skin and reduce inflammation.
Geranium
Another essential oil that has skin healing properties is geranium. This is due in part to both its anti-inflammatory and antibacterial properties.
Myrrh
Another great skin healing essential oil that has been included to this blend is myrrh. This essential oil has anti-inflammatory properties and thus offers both good skin protection; as well as, a regenerating potential.

You could also use lavender, roman chamomile, or tea tree oil essential oils in this recipe.


Safety First When Using Essential Oils
If you have never used a certain essential oil it is important to do a skin patch test prior to topically using! See my sections on topical use and other essential oil safety concerns:


How to Make a DIY Pumpkin Flaxseed Face Mask

Ingredients

Directions
1. Mix the vitamin E oil and essential oils together in a container. (I used a cylinder measuring container.)
2, Mix the flaxseed gel and pumpkin puree together in a separate small bowl.
3. Add the honey (or vegetable glycerin), vitamin E – essential oils mix (or plain vitamin E without essential oils) to the flaxseed and pumpkin. Stir together mixing until all incorporated.
4. Use your fingers or a brush to apply the pumpkin face mask recipe all over your face. Let sit for 15 to 20 minutes before rinsing well with warm water.
Leftovers can be stored in the fridge for two to three days.
Recipe For Flaxseed Gel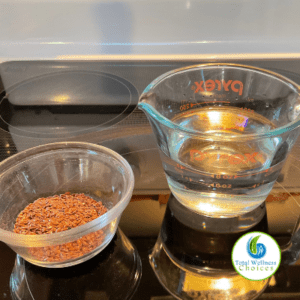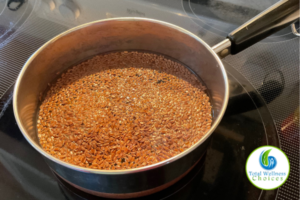 How to Use this DIY Face Mask
It is recommended to use this DIY Pumpkin Flaxseed Face Mask once a week for its exfoliating properties. Using it more often can irritate your skin.

I make pumpkin face masks often. Since I don't want to waste an entire can of pumpkin to make one mask I spoon the leftover pumpkin puree into ice cube trays and freeze it.

Once it's frozen, you can move them to a freezer container or bag for storage.

You can also freeze this pumpkin flaxseed facial mask recipe in the same way. The pumpkin, flaxseed, honey, and even the essential oils can be frozen without compromising their benefits for your skin.

Just take 2 ice cubes out of freezer and let them thaw in the fridge overnight to use the mask the following day or two.

Face mask made with natural and simple ingredients like this one have many benefits. A face mask like this one can help tighten, brighten, and tone your skin, plus it's great for most skin types.
Give this new DIY pumpkin flaxseed face mask recipe a try and let us know if you like it.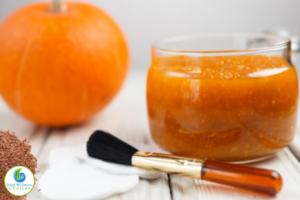 These statements have not been evaluated by the Food and Drug Administration. This article is for educational and informational purposes only and does not intend to diagnose, treat, cure, or prevent any disease or health condition. It is always recommended that you seek the advise of your private medical doctor.