This post may contain affiliate links. I may be compensated if you make a purchase through a link on this page.
An Unbiased Xtend-Life Total Balance Review!
Many people feel the best way to maintain optimum health is to take a multiple vitamin each day. Xtend-Life Total Balance is designed to be a multivitamin and more.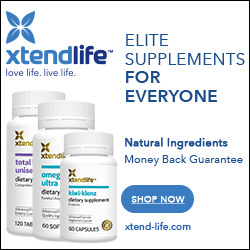 Total balance comes in 5 versions, one for men, one for women, and one for children, and a Unisex version that has special anti-aging ingredients as well as a premium unisex version.
Because of all the different versions this review will mainly focus on the Total Balance Unisex.
What the Product Promises
Depending on which version of Total balance you buy. This product promises that you will:
Have improved immune system health.
Feel less stressed
Have more energy
Help you look and feel younger.
About the Ingredients in Total Balance
Depending on which version of Total Balance you buy this supplement has all the standard vitamins and minerals you would expect to find in any Multivitamin supplement along with some extras such as green tea, Olive leaf extract, and black cumin extract.
In addition, Total balance also contains:
An eye health blend
Enzyme Blend
Amino acid Blend
Each with their own set of ingredients as well as some herbal extracts. The list of ingredients in this product is quite long so, to learn more about the ingredients in these products you should check out the Xtend-Life official website.
How to Take this Supplement

Total balance is easy to take, you simply take 4 capsules a day with water. This may seem like a lot compared to other multivitamins.
However, due to the number of ingredients and all the extras in this product you need to take 4 capsules to ensure that you get the right amount of all the various ingredients.
What The Reviews Say
It is difficult to find any user reviews for Xtend-Life Total Balance; this may be due to the fact that this dietary supplement is mainly sold through the official website.
There are a few comments posted directly on the Xtend-Life website and the comments indicate that people who use Total Balance have more energy, feel uplift in mood, and even feel less of a craving for sweets.
Almost all of the comments indicated that these individuals liked the product and felt better overall.
There is one review for Xtend-life Total Balance Men's Premium on Amazon and that review claims this product has helped him grow back hair, and clear his thinking as well as improved his overall health.
However, none of the comments spoke to the issue of looking younger. It may just be that none of the people who posted comments had been taking Total Balance long enough to see such results.
Or it may be that this product's ability to make you look younger lies in the fact that you will feel and look overall healthier.
If the multiple vitamin product you are taking isn't doing enough to make you feel healthy and energetic then trying one of Total Balance products might well be worth your while.