This post may contain affiliate links. I may be compensated if you make a purchase through a link on this page.
Say Bye to Sluggish Digestive System with these Slow Digestion Remedies!
Many people today suffer from all kinds of slow digestion problems. Good news is, there are effective natural slow digestion remedies you can use.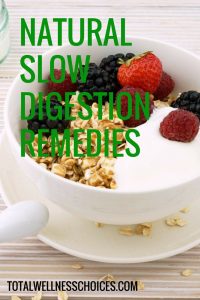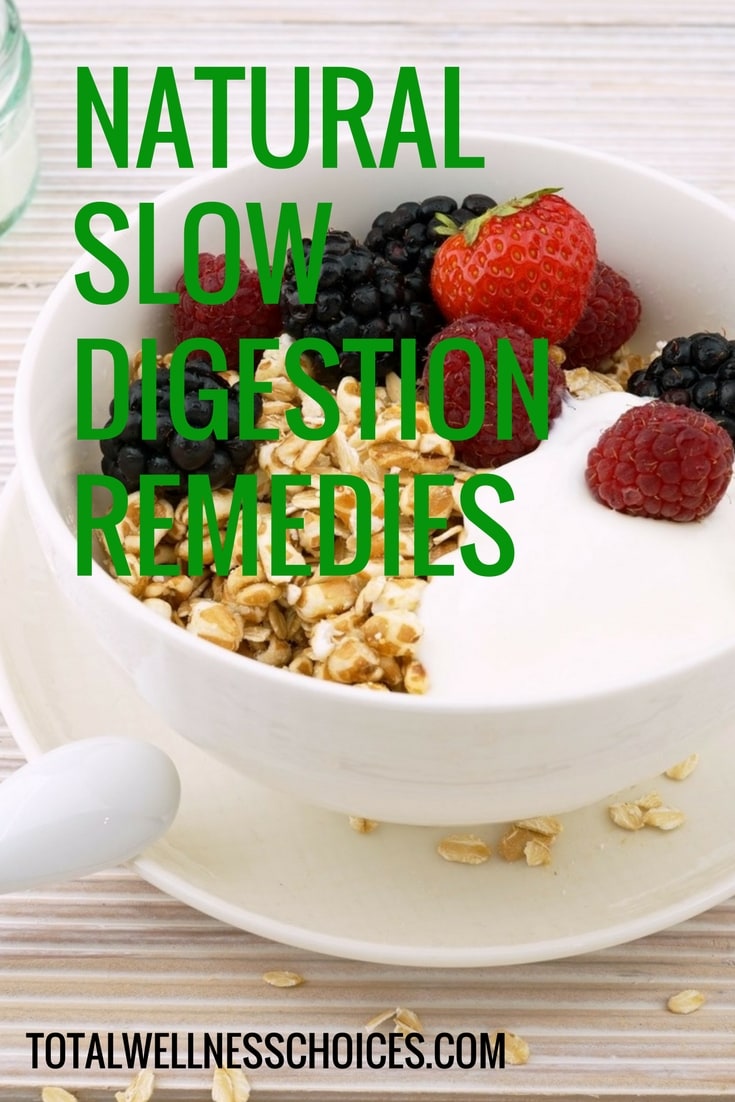 There are a number of things that can slow down the digestive system.
These include too little exercise, consuming too much processed foods and saturated fats, and not drinking enough water as well as certain medications.
When you consider that digestion begins the moment you put that food into your mouth and begin chewing to when your body eliminates the waste that your body can't use, then you will soon realize just how much can happen to slow your digestion.
From rushing through meals and not properly chewing your food, to antibiotics killing off the good bacteria in your intestinal tract slow digestion can occur to any one at any time in lives.
In a Hurry Click Here to See the Best Natural Slow Digestion Remedies on Amazon
Symptoms of Slow Digestion
When your digestion slows, all types of problems can arise and these problems manifest themselves in:
Pain and discomfort
Lower energy levels
Constipation
Gas
Bloating
These uncomfortable symptoms of a slow digestion can interfere with your daily activities and quality of life, so finding some good slow digestion remedies is essential to feeling better and regaining your health.
Fiber-Rich Foods are Natural Digestion Remedies
Bob's Red Mill Organic Regular Rolled Oats, 32 Ounces (Pack of 4)
Eating foods that are rich in fiber helps to boost digestion. Green leafy vegetables, fruits and whole grains are some of the foods that really aid digestion.
Try to incorporate fiber-rich foods into your diet, if you are looking for slow digestion remedies.
I love taking oatmeal for breakfast and it has been so helpful to my digestive system.
Not only does oatmeal aid digestion, it also helps me feel full longer.
So I feel less hungry and consume less calories for the day. That's a WIN WIN situation in my book!
I try to limit my sugar intake, so I don't add sugar at all. All I do is add unsweetened almond milk, berries or banana.
You can also use honey or agave syrup in place of sugar as they are naturally occurring sweeteners and and are healthier than sugar.
I prefer 100% pure organic honey and agave syrup because they are free of chemicals.
Probiotics for Slow Digestion!

Probiotics help to boost the amount of healthy bacteria in your gut. The good bacteria in your gut need to outnumber the bad in order for you to have healthy digestion.
Taking a quality probiotic supplement will help improve your digestion and regularity as well as boost the immune system.
Nutrition Essentials #1 Rated Probiotic – Most CFU's
Hyperbiotics PRO-15 Probiotics – 60 Daily Time Release Pearls
Dr. Tobias Probiotics: 30 Billion with Delay Release
Digestive Enzymes Help with Constipation
Shortage of digestive enzymes is major cause of slow digestion. These enzymes play a vital role in breaking down the foods you eat and aid in their absorption.
So, another way to treat sluggish digestion and stop constipation is by taking enzyme supplements to help boost the level of your digestive enzymes.
Rainbow Light Advanced Enzyme System Plant-Source 180 vcaps
Garden of Life Vegetarian Digestive Supplement for Women
Enzymedica – Digest Gold with ATPro, High Potency Enzymes 240 Capsules
Prebiotics Fiber
Prebiotics are dietary fibers that boost the natural production of the good bacteria in the intestinal tract. They serve as food to the good bacteria and provide a conducive environment for these beneficial bacteria to thrive.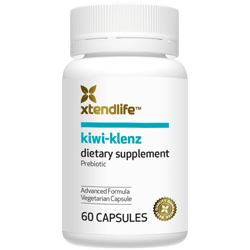 Kiwi Klenz by Xtend-Life is my favorite prebiotic supplement. It uses Kiwifruit to help supply vitamins and minerals and important prebiotics to keep the good bacteria in your intestinal tract alive and well.
So that the friendly bacteria can reduce the bad bacteria that can cause digestion problems as well as balance your digestive and immune system.
Kiwi Klenz contains soluble and insoluble fibers that help to cleanse the intestines as well as serve as food for good bacteria to thrive and reproduce.
Insoluble Fiber Helps Constipation
While soluble fiber works well for those suffering from constipation and diarrhea, soluble fiber such as psyllium is the ideal choice if your problem is only constipation.
Kirkland Signature Kirkland Fiber Capsules
Metamucil Fiber Supplement, Natural Psyllium Husk
NOW Foods Psyllium Husk 500mg, 500 Vcaps
Insoluble fiber does not absorb water, hence it is non-fermentable and enhances bowel movement.
Ginger and Constipation
Ginger helps to alleviate constipation, bloating and nausea. You can take ginger tea or opt for a ginger supplement if you are not a tea person. I love ginger tea a lot and can't seem to get enough of it – but I am a tea person of course!
Yogi Teas Ginger, 16 Count (Pack of 6)
Nature's Way Ginger Root, 550 mg, 100 Capsules
Solaray Organic Ginger Root Supplement, 540 mg, 100 Count
How to Make Food Digest Fast Naturally
The best slow digestion remedies are those that are all natural and work gently to balance your digestive system.
Here are a few other simple things you can try to help alleviate digestive problems and symptoms:
Dietary Changes – In many cases slow digestion can be treated effectively by making dietary changes such as eating more fresh foods, limiting your intake of processed foods, caffeine and sugar. Try to eat smaller meals more often throughout the day (about 4-5 small meals a day).
Drink a Lot of Water – You should also increase your water consumption (at least 8 glasses a day). Water is one of the best natural laxatives for constipation. It is also a great detox agent as it helps to flush toxins out of your body.
Increase Exercise – In addition to making changes in your diet you should also try and get more exercise. Taking a walk, going for a bike ride, or other physical activities will help your food to digest better and get it back into balance.
Along with diet and exercise, dietary supplements have proven to be effective in helping to balance a slow digestion and help you overcome some of the symptoms of a slow digestion.
These statements have not been evaluated by the Food and Drug Administration. This article is for educational and informational purposes only and does not intend to diagnose, treat, cure, or prevent any disease or health condition. It is always recommended that you seek the advise of your private medical doctor.