This post may contain affiliate links. I may be compensated if you make a purchase through a link on this page.
Discover How to Make an Easy Homemade Lavender infused Body Salve for Body Aches and Skin Problems.
Lavender and shea butter are perfect together in natural skin salves. Both have been found helpful when used for body aches and various skin problems such as acne, psoriasis, eczema, minor burns and wrinkles.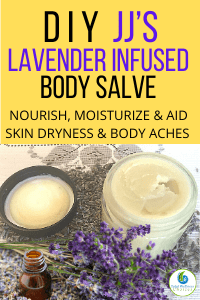 Lavender oil has anti-inflammatory and analgesic (relieves pain) properties. It is used in many natural products to help relieve body aches such as muscle soreness and joint pain.
Its anti-inflammatory and soothing properties can make it helpful for those with dry itchy skin and skin problems such as acne, psoriasis, eczema, sunburns and wrinkles.
Shea butter is also used for many problems related to skin and body. Being rich in vitamins A, E, and having fatty acids, plus both anti-inflammatory and antioxidant properties, it helps to soothe, deeply moisturize and aid skin problems.
Because of its nourishing properties shea butter is also used in skin products for eczema, acne, dry skin, wrinkles, scars, burns, rashes and cracked heels! It is a perfect ingredient for homemade salves and moisturizers.
The fatty acids in shea butter are thought to help protect and nourish the skin by adding a barrier layer to the skin so we can maintain the moisture we have in our skin. This helps to both prevent, as well as, treat skin dryness.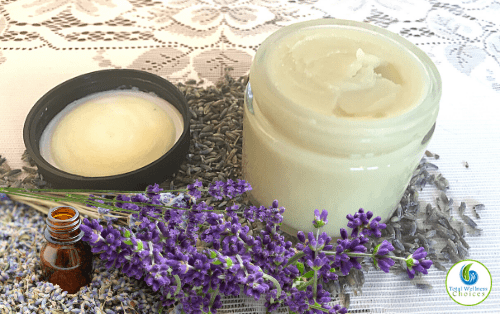 JJ's Lavender Infused Body Salve Recipe
Making a salve for body aches or to use on patches of dry or irritated skin, or even for minor burns is not that hard. I have found that this salve also works well on dry, cracked heels, and stiff or sore muscles or joints.
When used for body aches and soreness, it is more effective when you add a gentle massage to the area to help increase the blood supply!
Even though lavender essential oil is considered a gentle and safe essential oil (when diluted) to use topically, it is still important to do a skin patch test prior to topically using if you have never used it before! See my sections on essential oil safety:
This recipe consists of two parts:
The first part of recipe is where you make the lavender infused oil. This can take two to three hours. You can make it a few days ahead of time. You can also make a larger batch to use in other homemade products, or to use as a great bath oil.
(I put 1 cup epsom salts in the tub as it is filling, then add a little of this lavender infused oil. It is wonderful as a relaxing bath soak! Just be sure and wash that oil out of the tub afterwards, so no one will slip and fall!)
The second part is where you pull the recipe together using all of the ingredients including the lavender infused oil. This is the quick and easy part. You will notice I am using measuring spoons instead of a kitchen scale. This helps to keep it quick!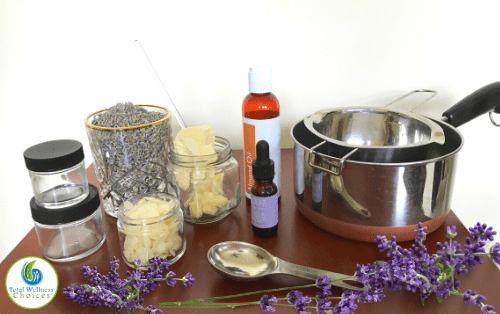 Ingredients for Recipe
NOW Foods Lavender Oil, 2 ounce
Beesworks® BEESWAX PELLETS 1lb
Part One: Directions for Making Lavender Infused Oil
Use a small double boiler, set over a water filled small saucepan (the water should come up to just the bottom of the double boiler) set at warm or lowest setting.
Put the 4 Tablespoons sweet almond or jojoba oil and 2 Tablespoons dried lavender flower buds in the double boiler. Stir together.
Let the oil and dried lavender simmer over low heat setting (warm or low) for 2 to 3 hours. Keep an eye on the saucepan to make sure it is not boiling. You can remove for awhile to cool some then replace as needed.
Allow to cool, then strain the lavender infused oil mix using a cheesecloth or fine mesh strainer to remove the herb pieces, then reserve the strained oil for the 2nd part. (You will use 2½ tablespoons/37.5 ml of the infused oil for this recipe)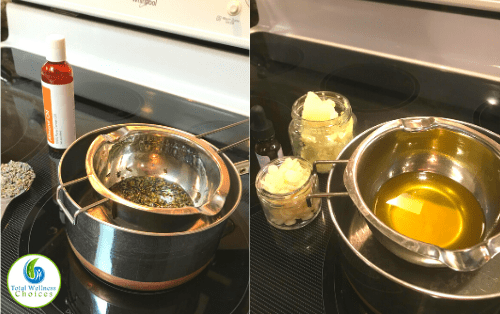 Part Two: Directions for Recipe
Place double boiler over small water filled saucepan at low temperature setting. I like using the stainless steel double boiler pot, which I used to make the lavender infused oil. (Fill the saucepan with water until it covers the bottom of the double boiler.)
Once the water is warm add the beeswax and let it start to melt
Add the shea butter to the melting beeswax. Continue heating on low until both are completely melted, stirring occasionally.
Remove from heat source and add 2½ Tablespoons/37.5 ml of the lavender infused oil and the essential oil (if using). Whip mix well together.
Slowly pour the mixture into containers, being careful not to splash the hot liquid on yourself.
Let this salve cool completely and solidify.
Once it has cooled and solidified, your homemade lavender infused body salve is ready to use!
This is a multi-purpose salve! Here are some suggested uses:
If using for muscle or joint aches massage the area with the salve gently for it to be most effective.
You can use a small amount on minor burns or scrapes or on areas with dry skin patches.
It can also be used on those dry, cracked heels.
This makes approximately two, 1 ounce (30 ML) containers
Related: How to Use Coconut Oil for Joint Pain Relief and 12 Homemade Balm and Salve Recipes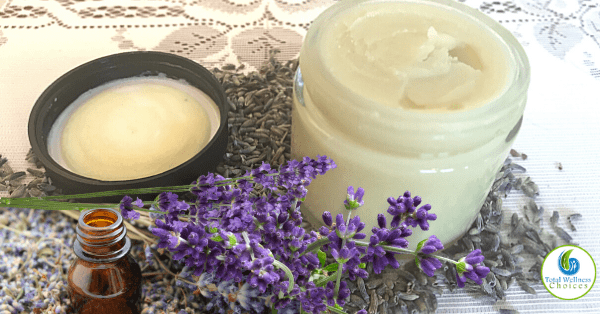 These statements have not been evaluated by the Food and Drug Administration. This article is for educational and informational purposes only and does not intend to diagnose, treat, cure, or prevent any disease or health condition. It is always recommended that you seek the advise of your private medical doctor.