This post may contain affiliate links. I may be compensated if you make a purchase through a link on this page.
Simple DIY Bath Oil Recipe with Essential Oils and Easy to Make Too!

If you are looking for a simple and easy to make diy bath oil recipe, then you've come to the right place.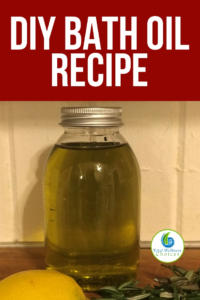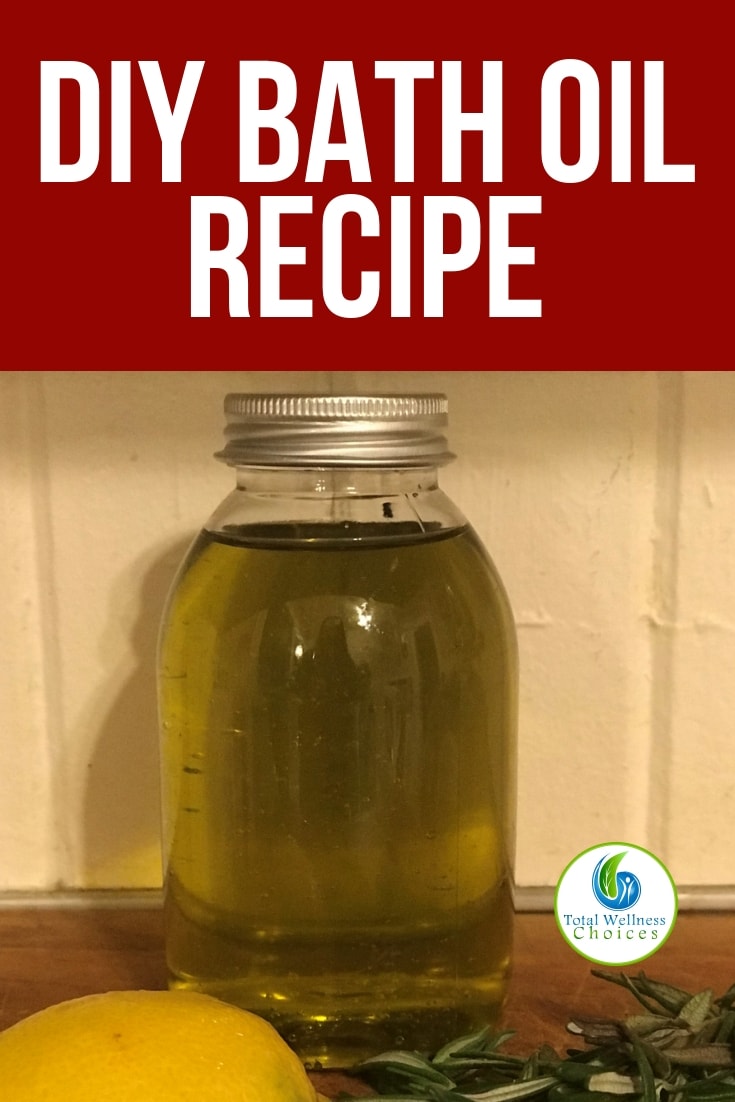 For those of you who have been following my recent essential oil articles, you may have noticed a common theme, which is stress relief.
This is intentional because the holiday season can be very stressful. And having some relaxing and de-stressing essential oil DIY products on hand can be very helpful.
(Learn how to make de-stressing bath salts here)
For this post, I want to continue in the same direction, but with emphasis on pain relief.
The cooler weather brings joint pain and discomfort to high levels. Our joints seem to become stiffer and as a result more distress.
But along with the pain of stuff joints from the cold, we experience stress. Anytime our body is in pain, our anxiety levels rise, our body tenses and stress begin to build.
Taking the time to care for our body to prevent extra stress is most beneficial.
This diy bath oil contains the right ingredients that help with sore muscles and joint discomfort, thus helping to alleviate stress. It is a perfect oil to add to your bath for a long soak.
Apart from soothing sore muscles and joint pains, this homemade bath oil also acts as a great moisturizer for your skin.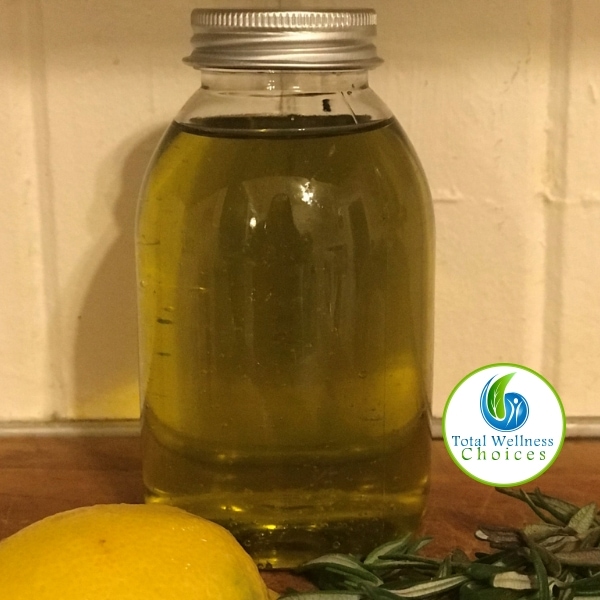 What is in this DIY Bath Oil and Why?
For this body oil recipe, I have chosen to use olive oil as the carrier oil. Olive oil has strong anti-inflammatory properties.
Olive oil contains oleocanthal, which has similar effects as ibuprofen, and the oleic acid has the ability to reduce levels of inflammatory markers.
We need to use the most effective oil for inflammatory as the base and olive oil is most likely going to give the best overall results.
Not only is olive oil a powerful anti-inflammatory agent, it is also an amazing natural skin moisturizer!
For the essential oils, I chose a combination of rosemary and lemon for a couple of reasons.
First, a blend of these two essential oils together has such a lovely invigorating smell. Second of all, like the olive oil, these two essential oils also have anti-inflammatory properties.
Rosemary is one of the most potent herbs and essential oils found. We all know that the herb tastes incredible when added to a roasted chicken, but now you will learn how EO benefits your body as well.
Rosemary is thought to be effective for soothing sore muscles and joint pains due to its ability to stimulate circulation, which aids in pain relief.
It also contains high amounts of antioxidants that help reduce inflammation.
Lemon essential oil is one of the most popular citrus essential oils because of its versatility and potent antioxidant properties, as well as, a vital inflammation reducer.
This bath oil is a perfect remedy to help you prepare for a long day or to relax after a long day!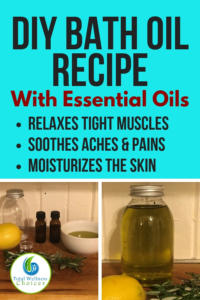 Diy Bath Oil Recipe
Ingredients/What You Need
*You may include dry rosemary leaves if you prefer, but not required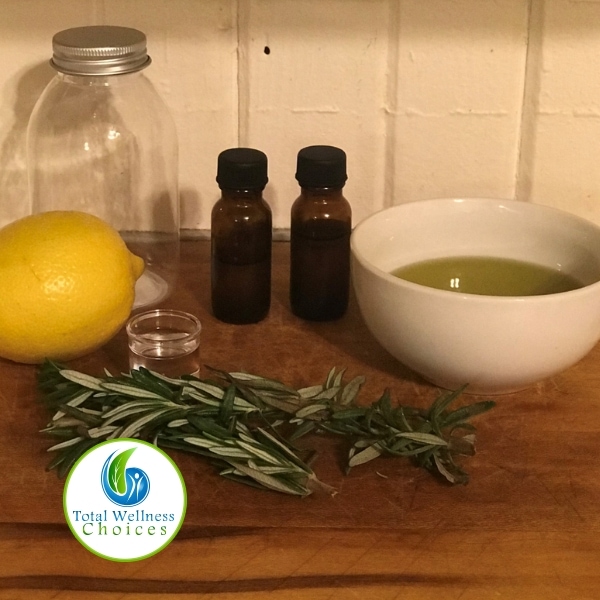 Benefits of Ingredients
Olive oil contains strong anti-inflammatory properties
Tea tree oil contains antibacterial agents which may help prevent bacterial growth
Rosemary essential oil helps to help alleviate arthritis and joint pain as well as sore muscles
Lemon essential oil is an important inflammation reducer
Directions – How to Make Homemade Bath Oil
Add the Olive oil to your bath oil container.
Next, add in your tea tree oil and essential oils
Gently shake or stir till all the oils are combined.
Place lid securely.
How to Use this Lemon and Rosemary Bath Oil

Run your bath water and add approximately ¼ cup of the rosemary & lemon bath oil
Soak for about 20 minutes to allow oils the time to fully penetrate your skin and absorb into the pores.
Gently pat your body dry after your bath, allowing the remainder of the oil to remain on your body.
This diy bath oil can also be used as a body oil. But if you use cold-pressed lemon essential oil which is phototoxic (which means it increases the skin's reaction to sunlight making it more likely to burn) than this oil recipe would be better used at bedtime if used as a body oil.
(You can keep it from being phototoxic by using steam distilled lemon essential oil!)
Just a reminder. To keep yourself and the rest of the family safe ALWAYS CLEAN THE TUB WELL AFTER USING ANY OIL PRODUCT IN IT!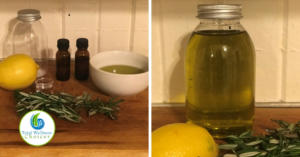 These statements have not been evaluated by the Food and Drug Administration. This article is for educational and informational purposes only and does not intend to diagnose, treat, cure, or prevent any disease or health condition. It is always recommended that you seek the advise of your private medical doctor.