The skin around the area of your eyes is incredibly thin and delicate which makes it one of the first places where the signs of aging appear. Fatigue, dry skin, rubbing your eyes, make-up and a 101 other things all affect the skin around your eyes resulting in dryness, wrinkles, dark circles and bags. Finding the best organic or natural eye creams to help the area around your eyes feel and look healthy is no easy task. However, here are three organic or natural eye creams that can improve and repair the area around your eyes.
#1. XtendLife Eye Contour Serum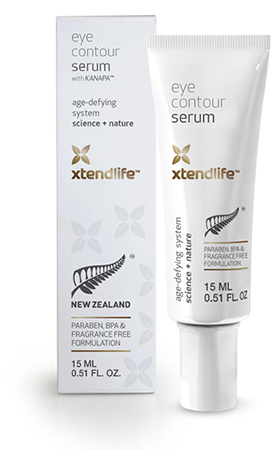 XtendLife offers an eye contour serum that is equally effective for both men and women. The main ingredients in this serum are:
Xtend -TK
Eyeliss
Haloxyl
Nano-Lipobelle Co-Enzyme
Homeo Age
Babassu
This serum is designed to not only fight the signs of aging, but also stop dark circles and bags where they start, underneath the skin. But, does this eye serum deliver on its promises?
Reviews for Xtend-Life Eye Contour Serum
There are few unbiased user reviews for Xtend-Life eye contour cream on the Internet. There are, however, several reviews on the company's official website. Unfortunately, while the reviews for this product are exceptionally positive they are also extremely general not giving much feed-back of what people find specifically helpful in this serum.
However, based on the fact that so many users are extremely happy with the results they see when using this product, it definitely seems like an eye serum worth trying
#2. Native Remedies Youth Shield Naturals Hyaluronic Defense Eye Cream With Squalane & Arnica
Youth Shield Naturals hyaluronic defense eye cream with squalane and arnica by Native Remedies has some powerful ingredients that have been specifically chosen for their anti-aging properties. Some of these ingredients include:

Jojoba Seed Oil
Squalane
Hyaluronic acid
Red Tea Extract
It should be noted that while Squalane is a good moisturizing ingredient and is it considered natural it is not what most people would consider organic as it is not found in it's current form in nature, but is rather a derivative of Squalene.
However, with that being said, Reviews on the Native Remedy site state that Youth Shield Naturals Hyaluronic Defense Eye Cream does work and work well to help reduce many of the signs of aging.
While like Xtend-Life Eye contour Serum reviews most of the reviews for this product were general in nature there were a few specific areas where users noted specific benefits. Their comments indicated that this product was:
Fast acting
A very good moisturizer
Good at reducing wrinkles
#3. Pangea Organics Eye Cream
Pangea Organics eye cream treats the area around the eyes with moisturizing oils, vitamins and other nutrients, and anti-oxidants. Some of the ingredients included in this eye cream include:
Turkish rose oil
Cocoa butter
Squalane
Carrot Oil
Organic rose hips
User reviews for this product can be found at several places on the Internet and this eye cream rates 4 ½ stars out of 5 on most review sites. Some of the advantages that users found Using Pangea Organics eye cream were:
Reduction or lightening of dark under eye circles
Reduction of eye puffiness
Firming of the skin around the eyes
That this cream was very moisturizing and absorbed quickly.
One of the best advantages of all three of these eye creams is that there were no reports of any skin or eye irritation from users using any of these three products. This is extremely important as many eye creams do cause irritation both to the skin around the eye and the eye itself.
An effective eye cream should be able to give you the results you want to see without causing any eye or skin discomfort.
Considering that all three of these products have earned very positive reviews it would appear that any one of the three eye creams is worth trying.