This post may contain affiliate links. I may be compensated if you make a purchase through a link on this page.
Unbiased Xtend-Life Skincare Products Review!
Xtend-Life skincare line offers products for both men and women. This is a look at their product line as to whether or not they are effective in helping people have healthier, younger looking skin.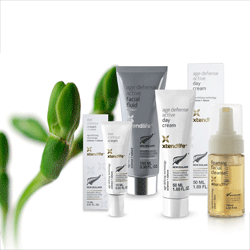 Xtend-Life Company
The Xtend-Life company was founded in 1998 by Warren Mathews and his then 22 year old son Lance.
From the beginning, the company dedicated itself to providing natural products that helped people to maintain their health so they could live a fuller and higher quality lifestyle.
Over the years the company has researched and introduced many different products including a skincare line.
This skincare line not only promotes healthier skin but also fights the signs of aging. The products work by stimulating natural collagen production and cells rejuvenation.
What Xtend-Life Skincare Line Includes:
    Age-defying day cream
    Restorative night cream
    Age-defying serum with whitening
    Day & Night cream with whitening
    Age defying sheer day & night cream
    Age defying body lotion
    Nourishing hand cream
    Age-defying exfoliating scrub
   Eye contour cream
    Age-defying hydrating mask
    Foaming facial cleanser
    Age-defying cleansing mask
Xtend-Life's mission is first and foremost helping people to achieve better health.
So, they make sure that absolutely nothing goes into their skin care products that can't be ingested.
Most companies use ingredients that contain synthetic chemicals and preservatives that have been proven to jeopardize your health.
However, Xtend-Life sticks to only those ingredients that won't harm you when absorbed by your skin into the blood stream.
In addition, their own laboratories do not only test all of their products in-house, but members of their own company test it out before selling it to the public.
This company operates under the assumption, if the product isn't something they would actually use, then it is not something they are going to offer for public use.
Ingredients in Xtend-Life Natural Skin Care Products
Xtend-Life uses over potent natural ingredients in their skin care product line. Some of these ingredients are the same ingredients that other skin care companies put into their skin care products such as DermCom (natural collagen simulator), Grapeseed oil, and Nano-lipobelle H EQ10.
Kanapa (a patented ingredient that helps the skin repair itself) is another active ingredient found in Xtend-Life skin care products.
In addition, these ingredients are designed to all work together to help repair skin that has been damaged by the sun and years of improper care.
They also restore the skin's natural moisture, add anti-oxidants to help destroy those skin and health-damaging free radicals. And thus help to give your skin a tighter, more beautiful and youthful appearance.
One of the great things about this company and these skin care products is that there are no promises of overnight results.
The company will tell you that returning your skin to a healthy state and making it look younger takes time.
This is refreshing in light of all the companies and products that promise instant "youth."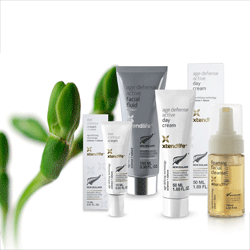 Price
Xtend-Life skin care products are not the cheapest products on the market. The company uses only the best ingredients they can find for their products.
This means that it pays more for each and every natural ingredient that goes into each of their products.
They do, however, try to keep prices down as much as possible by choosing to spend their money on research and testing their products rather than on advertising.
This means that the company isn't as well-known as other skin care companies, whose products may be less effective.
Pros of Xtend-Life SkinCare Products
The company uses only the best ingredients they can find for promoting healthy skin.
None of the ingredients in their products is harmful to your health (barring specific allergies.)
The company extensively tests their products in their in-house laboratories
The company's website explains each and every ingredient and why it is included in each of their skin care products.
Their products contain no parabens, no fillers, no synthetic ingredients, and no colors.
Cons Of Xtend-Life SkinCare Products
The company is not as well-known as many other companies.
You can only order Xtend-Life products online.
While their products are extensively tested in-house, they offer no proof from outside laboratories. (this is not unlike many other skin care companies)
They do cost more than many other products.
My Own Personal Experience
I am an affiliate marketer with Xtend-life. This means that I get some commissions when somebody buys any of their products through my website. However, I am also a satisfied customer and so is my sister.
My sister and I started using Xtend-life skincare products in 2009 and we cannot ask for a better brand. It is important to note that I do not promote or recommend any product I cannot use myself.
I personally like the way their creams feel on the skin – just like pure silk. The creams are not heavy or greasy; rather they quickly dissolve into the skin leaving no residues.
All you feel on your skin afterwards is that loving, smooth and supple texture.
I also have sensitive skin, which means that almost every product irritates my skin, but not the Xtend-life brand.
My sister used to have sunburns on her cheeks and at the corner of her eyes. She used several bleaching creams without getting any positive result.
However, that changed when I recommended Xtend-life line of skincare to her.
She didn't even have to use their whitening cream. All she used were the Age Defying Day Cream and Restorative Night Cream and the sun burns gradually faded away.
What Other Reviews Say
Xtend-Life does have a place for customers to leave comments on their website and most of the comments regarding their different skin care products are positive.
Unfortunately, since the company is not well known, there are only a few online reviews from customers.
There are some blogs and even a forum or two dedicated to skin care and Xtend-Life's products have been mentioned and discussed in some of these blogs.
Some of these forums and the comments that have been posted on these sites have also been positive.
From all indications, it does appear that Xtend-Life skincare products do accomplish everything they set out to do which is to give users younger, softer, healthier and younger-looking skin.