This post may contain affiliate links. I may be compensated if you make a purchase through a link on this page.
Homemade Whipped Foot Cream Recipe
This is a homemade super whipped foot cream recipe that you may find helpful for dry, aching feet. It's so easy to make and doesn't take much time either.
This basic recipe minus the essential oils also makes a great super whipped body cream due to it's nourishing butters and oils.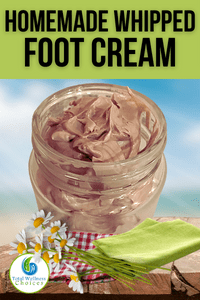 And the best part is, this DIY super whipped foot cream is made with all natural ingredients, so there are no hash chemicals that are harmful to your skin.
It is super whipped, meaning it is so light and airy that it has the consistency of dairy whipped cream.
The base of this homemade whipped foot cream is a moisturizer made by combining oils (liquid) with butters (solid).
Unlike certain lotions, whipped butters and creams, like this one, work into the layers of your skin providing a hydrating solution for your skin with healing agents from the oils.
This makes it especially great for the very dry areas of the body – such as heels of the feet.
It also includes an essential oil blend that I find helpful for body aches, such as foot discomfort.
Ingredients Used
Butters Used
There are several kinds of butters you can choose from for your base, but the main two that I like using for this type of recipe are shea and cocoa butter.
Shea Butter
Shea butter is fat extracted from the nut of the African shea tree. It is one butter that is useful for all skin types, especially those with acne or oil skin.
Shea butter moisturizes dry, cracked skin and is known to increase circulation in the skin.
Cocoa Butter
Cocoa butter is fat extracted from the cocoa bean. Cocoa butter fights signs of aging, prevents skin peeling and dryness, and is an antioxidant powerhouse. I find it a perfect ingredient in whipped creams I am making specifically for my feet.
Using the combination of shea and cocoa butters makes this super whipped foot cream full of nourishing properties for our skin.
Best Liquid Oils (Your Choice)
Sweet almond oil is rich in vitamins and amino acids. It is also light and smooth. It moisturizes and nourishes the skin and is suitable for all skin types, especially dry and sensitive skin
NOW Solutions Sweet Almond Oil, 16-Ounce
Grapeseed oil is also a dry oil. It's a great choice for oily skin because the oil soaks into the skin quickly.
It also acts like a natural astringent and can tighten and unclog pores. It can help reduce inflammation while it nourishes the skin.
The chemical makeup of jojoba oil is similar to the natural sebum produced by the skin, making it very compatible with the human skin.
It is easily absorbed into the skin, and it moisturizes without making the skin oily. It is great for combination type skin, or any skin type.
NOW Solutions Organic Jojoba Oil,8-Ounce
Avocado oil is choked full of essential fatty acids, making it suitable for deep moisturizing.
This is because it can penetrate into different layers of the skin to nourish, moisturize and make the skin soft and smooth.
It is one of the best carrier oils for aging skin because it can help improve skin's elasticity.
It is nourishing to sensitive skin and can help reduce stretch marks as well as skin irritation, itching and redness.
Other Oils
Apricot oil , Argan oil , Rosehip oil, Camellia Seed Oil Cold-pressed Virgin Olive Oil, Castor oil and Fractionated coconut oil are just some of the many other choices available.
Each one has its qualities. Some are better for dry skin, others for oil or combination skin, and some work with all skin types.
Most reputable sites that sale these products give great information about the oil in question.
Other Ingredients
Other ingredients used include: Arrowroot powder or cornstarch, vitamin E oil, essential oils, and natural colored clay. Read below about the ingredients.

How The Ingredients Work Together
The butters and oils add healing and moisturizing properties.
The arrowroot powder or cornstarch cuts some of the greasy feel that is a complaint with body butters, mousses and creams.
The overall consistency of this homemade super whipped foot cream is perfect for moisturizing your feet without it feeling too greasy.
I like adding vitamin E oil to my body butters, mousses, and whipped creams. It is not compulsory, but I use it because it can help keep the product from going rancid.
The cocoa butter in this recipe may add a nice subtle smell, but adding essential oils will give you a stronger scent and I find adds a more healing effect.
You can use any essential oil of your choice in this super whipped foot cream, depending on what you are using it for.
For this recipe I have used some essential oils that can help with foot, especially heel inflammation or discomfort.
Peppermint essential oil is used for it's anti-inflammation benefits. I recommend it for ages 10 and up. Check with physician first if pregnant or nursing a baby.
Not only is tea tree essential oil antifungal, but it is also antiseptic, antiviral and antibiotic.
Little wonder it is beneficial for a wide array of health conditions.
Tea tree has been found useful for treating various infections such as nail fungus, yeast infection/candida, ringworm and of course athlete's foot.
Roman chamomile is high in antioxidants and is naturally anti-inflammatory.
It is great for dry skin and eczema because it is anti-inflammatory and gentle on the skin.
Chamomile has phytochemicals and polyphenols that can promote skin healing, which can help heal dry skin. This makes it perfect for foot care products.
I love the fresh clean aroma of lemon essential oil and I believe a lot of people do too! Its also has antimicrobial properties.
To add color to my products I now try for more natural sources. One is the use of clay. For this recipe I used Purple Brazilian Clay, but Rose Clay also would be nice.
Safety When Using Essential Oils
Always remember to do a skin patch test if using any new essential oil containing product.
Also, remember to only use recommended essential oils for children, or pregnant, or breast feeding women! Not sure? Read the following:
Related Essential Oil Articles:
Now, are you ready to help heal and nourish those dry or aching feet? Then read on to get the recipe.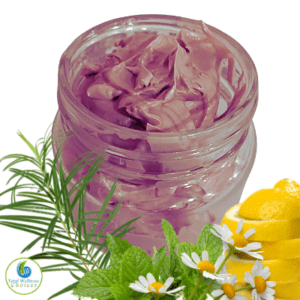 Homemade Whipped Foot Cream Recipe – All Natural Ingredients

Ingredients
Directions
Weigh the butters and liquid oil in separate small containers and set aside.
Melt cocoa butter using double boiler over low heat until almost all melted.
Add sweet almond oil (or carrier/liquid oil of your choice) to cocoa butter and stir until well blended and melted.
Remove from heat and set this melted butter/oil mix aside till later.
In a deep glass or stainless bowl put in the cut up shea butter, and whip using hand mixer until well blended and smooth. (It should look fluffy and white without any chunks.
Slowly add small amounts of the melted butter/oil mix whipping thoroughly after each addition.
Scrape sides of bowl and whip until soft peaks form.
Add the rest of the ingredients (including the clay for color if you are using) and mix by hand using a spatula until ingredients are well incorporated.
Using the electric mixer whip mixture again until it is well blended and fluffy like whipping cream. Scrap sides of bowl as needed.
Let cool. At this stage you can set aside for the next 8 hours, then check to see if it needs more liquid (oil) added to keep it light and fluffy.
Once the color has been mixed well by hand, again use your electric mixer to whip it until well blended together.
Next, spoon out your mixture into a container.
How To Use
To use apply a small amount to foot, concentrating on area of discomfort. Massage it in, using gentle to firm pressure, depending on your preference and discomfort level.
Related Reads: DIY Salve for Dry Hands; Homemade Whipped Body Mousse; and How to Make Homemade Whipped Body Butter.
Let me know your thoughts on this super whipped foot cream recipe. Leave a comment below.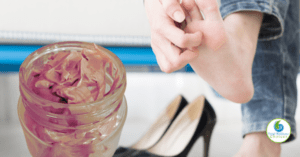 These statements have not been evaluated by the Food and Drug Administration. This article is for educational and informational purposes only and does not intend to diagnose, treat, cure, or prevent any disease or health condition. It is always recommended that you seek the advise of your private medical doctor.