This post may contain affiliate links. I may be compensated if you make a purchase through a link on this page.
Learn How Chia Seeds Benefit Diabetics by Helping to Control Blood Sugar Naturally!
There are a several reports that suggest that Chia seeds benefit diabetics, but wow does it really work? We are going to examine how chia seeds might benefits diabetes in this post today! So keep reading…!
Before I continue, I want to give a CAUTION! Even though Chia seeds are safe for most people, THEY MAY CAUSE an increased risk of CHOKING! This is because they swell up and can absorb around 10 to 12 times their weight in liquid when exposed to water or any liquid. That being said – don't add them to your diet if you have trouble swallowing, or esophageal restrictions!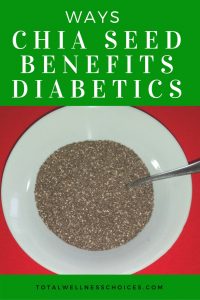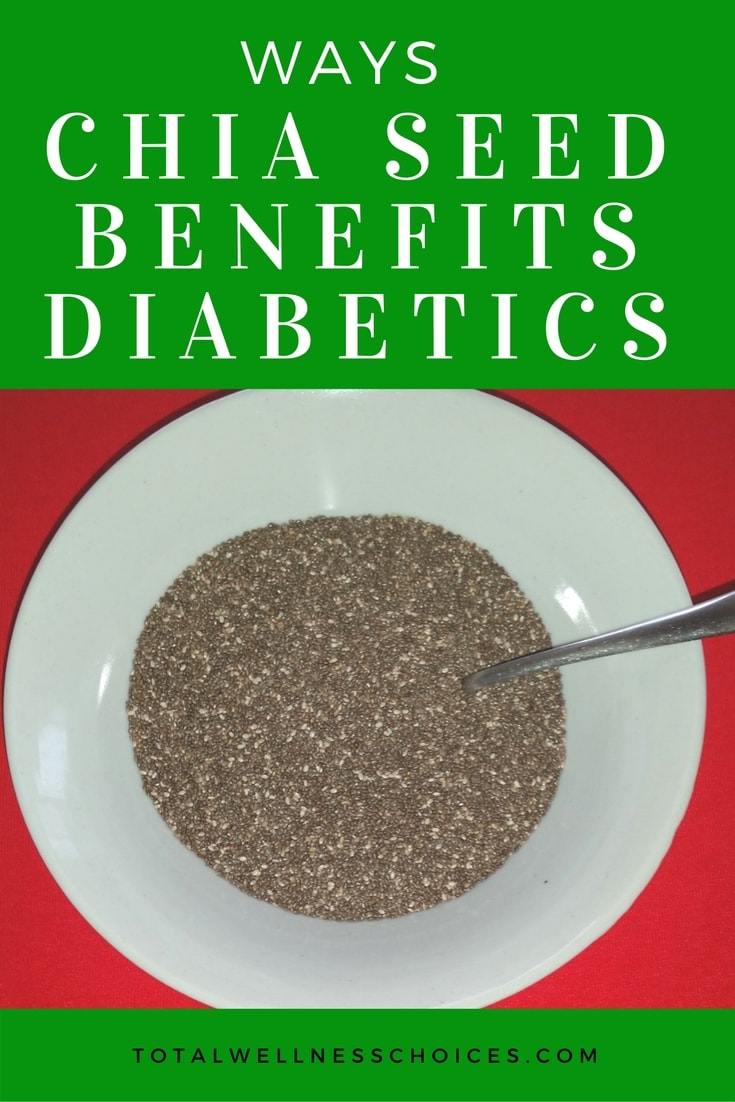 If you are diabetic or have a loved one who is diagnosed with diabetes, you must have heard a lot about the importance of diet and exercise to diabetics.
A lot of people have been able to control type 11 diabetes naturally by eating the right foods and exercise!
Even though some people may not be able to successfully control their diabetes by eating the right foods, one cannot deny the fact that nutrition plays a vital role in improving the health of diabetics.
My dad and mom were diabetics, so we were always looking for ways to improve their health.
Doctors recommended fiber-rich diet for them. My dad was able to control his type 2 diabetes by eating the right types of foods.
Although my mum's case wasn't as successful as my dad's, healthy diet helped to improve her quality of life before she finally passed on to GLORY.
There are a lot of fiber rich foods that diabetic can take advantage of and Chia seed is one of them.
What is Chia Seed?
Viva Labs Organic Chia Seeds Bag, 2 Pound (Packaging May Vary)
Chia seed can be found growing naturally in Mexico and Central America.
It is one of a few complete protein plants.
Chia belongs to the mint and sage family. It is also known as salvia hispanic, with salvia meaning sage in Spanish.
Chia is rich in minerals, vitamins and proteins, omega 3 fats, antioxidants and fiber. This is why it is considered a superfood.
The term superfood refers to a nutrient-rich food that is considered to have health benefits.
There is currently a revival of chia seed consumption as more people become aware of its nutritional value.
The Diabetes Epidemic and the Need for a Solution!

Diabetes is a serious health condition that occurs when the glucose level in the blood rises above normal.
The number of diabetics is growing worldwide. Even children are being affected by this debilitating disease.
Many people are resigning themselves to live with this disease. They believe there is nothing they can do about it.
But there are ways to manage and control this disease and eating chia seeds is one of them.
One study shows that a white-seeded type of chia, known as Salba, helped diabetic volunteers control their blood sugar levels.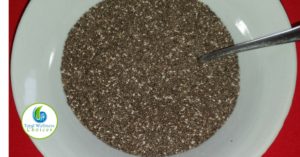 Weight Loss – A Way Chia Seed Benefits Diabetics
Chia Seeds are full of soluble fiber. Two tablespoons of the seeds contain 11g of fiber, which is 33% of the recommended daily fiber intake. And that is more fiber than flax and other seeds.
When chia seeds are soaked in water, the water becomes gel like and expands. This is the process of activating the seeds.
You may drink the gel or add it to your meals. Either way the gel will expand in your stomach and leave you feeling full. This means that you will eat less and lose weight.
It has been estimated that 90% of people that suffer from type 2 diabetes are overweight.
Losing weight can help lower blood sugar levels in people with type 2 diabetes. Chia seeds can help you lose weight, so it can help to control diabetes by reducing your blood sugar levels.
Viva Labs Organic Chia Seeds, 2 Pound (Packaging May Vary)
Nutiva Organic Chia Seed, Black, 32 Ounce
Navitas Naturals Organic Chia Seeds, 16-Ounce Pouches
How Chia Seed Benefits Diabetics – The Importance of Fiber
Starchy foods cause blood sugar spikes as the carbohydrates in them get converted quickly into glucose.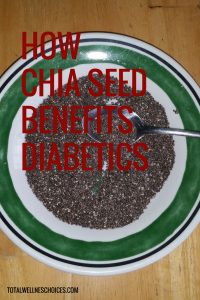 Good news is, the fiber in chia seeds helps to slow down the conversion of carbohydrates into sugar.
This process normalizes the level of glucose in the body, mitigating the spiking of blood sugar levels.
Our modern diets most often lack fiber. And unless you eat lots of vegetables daily you may not be getting the recommended amount of fiber you need.
Adding chia seeds to your meals also provides the fiber needed for a healthy digestive system. This is why it is one of the best foods that help with digestion.
It also contains more omega 3 fats than Salmon, which is a great source of energy.
Yes Chia seed benefits diabetics, but it also have many other health benefits including lowering cholesterol.
If you are diabetic, please consult with your doctor before eating chia seeds. And do not stop taking medications without your doctor's approval.
How to Use Chia Seeds for Diabetes
One thing I love about chia is that you can eat it in different ways. Eat them whole or ground. It is tasteless, so it blends well with different foods.
Sprinkle them in soups, cereals, stews, or mix it in smoothies, yogurt, salads, juices or drinks.
You can also soak them in water and drink them as a stodgy drink.
Other uses are as an egg substitute for baked dishes.
Soak the seeds in water and when it becomes jelly-like, it will have the same binding properties as egg.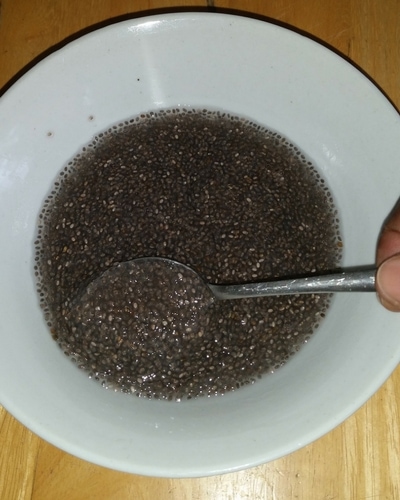 100 g of chia seeds contain 486 calories. So, it is not advisable to consume more than 25 g a day. For diabetics and the health conscious this is a food that needs to be seriously considered.
Make sure you drink enough water if you choose to add chia to your diet. This will help you avoid dehydration and even constipation because chia seeds soak up a lot of water.
Viva Labs Organic Chia Seeds, 2 Pound (Packaging May Vary)
Nutiva Organic Chia Seed, Black, 32 Ounce
Navitas Naturals Organic Chia Seeds, 16-Ounce Pouches
These statements have not been evaluated by the Food and Drug Administration. This article is for educational and informational purposes only and does not intend to diagnose, treat, cure, or prevent any disease or health condition. It is always recommended that you seek the advise of your private medical doctor.