Exposure to the sun, acne, age, and certain skin conditions can all leave your skin looking less than perfect, resulting in brown spots, freckles, uneven skin tone and even acne scars.
Most skin whitening creams use harsh chemicals to whiten and lighten your skin tone and while they are extremely effective in the short term they can end up causing further damage to your skin and to your overall health as well.
Choosing a skin whitening cream that contains organic and natural ingredients is the safest way to get rid of those dark spots and even your skin tone while protecting your skin's health as well as your overall health.
This article will explain three natural or organic skin-whitening products, and tell you just how effective they are. But, first you need to understand how natural skin whitening products work.
Natural Skin Whitening Products Slowly Improves Skin Tone
Because natural skin whitening products don't include any harsh synthetic chemical ingredients they often work more slowly than their chemical counterparts.
However, they do achieve their results while leaving your skin healthier, and brighter, because they don't tend to dry out the skin, and promote premature aging.
While it may take only days to see results with a chemical filled whitener it can take several months to see results with a natural skin whitener.
While the results may be slower they will be just as obvious, and in addition they will normally leave your skin not only looking better, but feeling healthier as well.
So, give that natural skin whitener a chance to do its job, and you will be glad that you decided to go natural. Let's look at some of the best natural skin whitening creams on the market.
#1. Meladerm Skin Lightening Cream
Meladerm skin lightening cream is considered a leading natural skin lightener on many different review sites. Reviews for this product normally run from 3 to 4 stars depending on which site you look at.
This skin lightening cream is natural and has proven itself effective especially with dealing with dark spots, red patches and hyper-pigmentation.
Customer testimonials show that it is also effective at getting rid of freckles and other skin discoloration  to give you an even skin tone.
This product has an airless dispenser instead of the traditional "pump and straw". The airless dispenser helps to keep air out of the cream, thereby preserving the potency of the product.
It is important to note that the traditional "pump and straw" mechanism allows air to enter into the bottle/container, thereby contaminating the cream and reducing the effectiveness.
Meladerm is one of the few skin lightening creams that actually work for all skin colors – Black, Latino, Indian, Asian, White and Caucasian.
The active ingredients in Meladerm include:
Licorice extract
Lactic acid
Kojic acid
Kojic acid while a better alternative than Hydroquinone can still cause skin sensitivities, which can result in your skin actually becoming more sensitive to the sun and toxins in the air especially if you have sensitive skin.
#2. Nature's Gate Organics Lemon Skin Brightening Cream
Nature's gate organics Lemon Skin Brightening cream uses a large dose of vitamin C to help you achieve lighter and brighter looking skin.
Vitamin C is not only an extremely good skin lightening ingredient it also contains anti-oxidants that will help your skin fight the signs of aging. Some of the effective ingredients in this Lemon skin brightening cream include:
Organic Lemon
Japanese Mandarin
Licorice
Mulberry
Reviewers on Amazon give Nature's Gate Organics Lemon Skin Brightening Cream 4 out of 5 stars, which is extremely high for natural skin whitening products as most users are impatient to see positive results and natural skin lightening products normally take time to start showing positive results.
However, users who tried this product found that this whitening cream:
Gave them a bright and glowing complexion
Reduced dark spots effectively
Improved Skin tone
#3. Xtend-Life Day Cream With Natural Whitening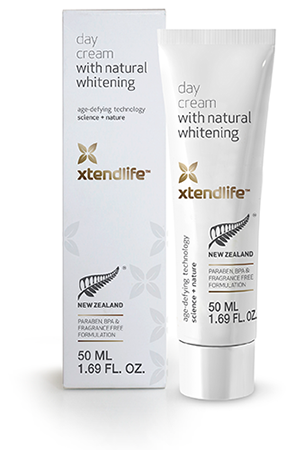 Xtend-Life Day Cream With Natural Whitening is not well known to most people. This is really a shame as the few unbiased reviews scattered around the net make it clear that this skin whitener is extremely effective at evening skin tone and even helping to reduce dark spots.
Some of the powerful ingredients in this natural whitening cream include:
Nutgrass root
Xtend-TK
Nano Lipobelle H E Q10
Natural vitamin E
Phytessence Wakame
Not only do Xtend-Life reviews state that this whitening cream does indeed help to lighten and brighten your skin, fade age spots and freckles and even skin tone it also helps your skin to feel healthy and fight the signs of aging.
Another important fact about the Xtend-life Day Cream With Natural Whitening is that its active whitening agent – Extrapone Nutgrass is also and anti-irritant.
So unlike a lot of whitening creams out there that irritate the skin, this cream actually helps to prevent skin irritation.